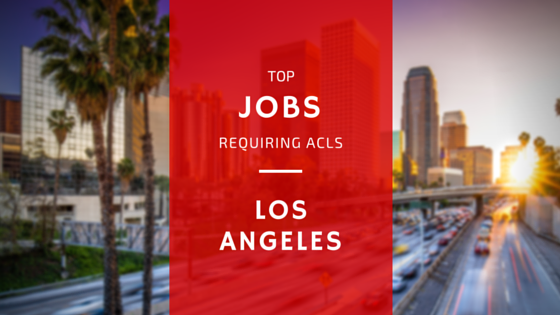 ACLS certification is a career requirement for many healthcare professionals in Los Angeles. Training involves advanced recognition and treatment skills for a number of serious medical emergencies, and is meant for those involved in the management of medical emergencies such as cardiopulmonary arrest and other cardiovascular emergencies. Many of the top jobs in Los Angeles that require ACLS certification are those involved in the preventative, therapeutic, rehabilitation and other health services fields.
The top jobs that require Los Angeles ACLS certification:
Physicians.
Most medical practitioners, also known as physicians, are required to certify in ACLS because they are responsible for giving direct care to all kinds of patients, including those experiencing cardiopulmonary and cardiovascular emergencies. They need the information taught in the ACLS class to recognize and respond to medical emergencies by identifying acute coronary syndromes, and ischemic chest pain; recognize signs of stroke; manage cardiac arrest, and use ACLS algorithms. Other required skills include IV use; Intubation; and ECG analysis.
Registered Nurses.
Registered Nurses (RN's) give direct-patient care and help patients and their families with understanding illness or injuries, appropriate treatments, and more. They experience a number of patients with various medical conditions on a daily basis, including cardiac arrest, heart attack, cardiopulmonary, and cardiovascular. The skills they need include airway management, application of related pharmacology, and immediate post-cardiac arrest care, which are taught in the ACLS course.
Paramedics.
ACLS in Los Angeles is needed for paramedics because they are included among the group of trained first responders who are the first to respond to emergencies. They need to be able to open and manage breathing if someone is unconscious and was choking or drowning; They also need to be able to manage emergencies like cardiopulmonary arrest and cardiovascular emergencies, as well as give immediate care for cardiac arrest.
Respiratory Therapists.
Respiratory Therapists specifically work with patients with breathing problems, such as those with chronic respiratory disease like asthma or emphysema. RT's can work with premature infants with under-developed lungs, as well as elderly patients with diseased lungs. RT's may also need to respond to emergencies and care for patients who suffered from a heart attack, drowning, or choking. All of these situations require a respiratory therapist to thoroughly understand advanced care and treatments to care for patients, going beyond skills taught in basic courses.
Dentists.
Dental practitioners are highly trained healthcare professionals that require ACLS in Los Angeles, although it may not seem they routinely see medical emergencies. Dentists are responsible for recognizing and diagnosing issues with patient's teeth, gums, and related parts of the mouth. Their position requires advanced recognition skills, such as how to respond to medical emergencies that may occur when patients sit in their chair, possibly during surgery or other procedures.
All of these healthcare professionals are experienced in the medical field and are responsible for providing and understanding advanced recognition skills, advanced treatments, and the management of various medical emergencies. Los Angeles ACLS courses teach healthcare professionals this advanced knowledge in order to equip many of the top jobs with the skills they need to help thousands of community members.
If you need to take your ACLS class for the first time, or renew your certification, check out the course from SureFire CPR in Los Angeles.