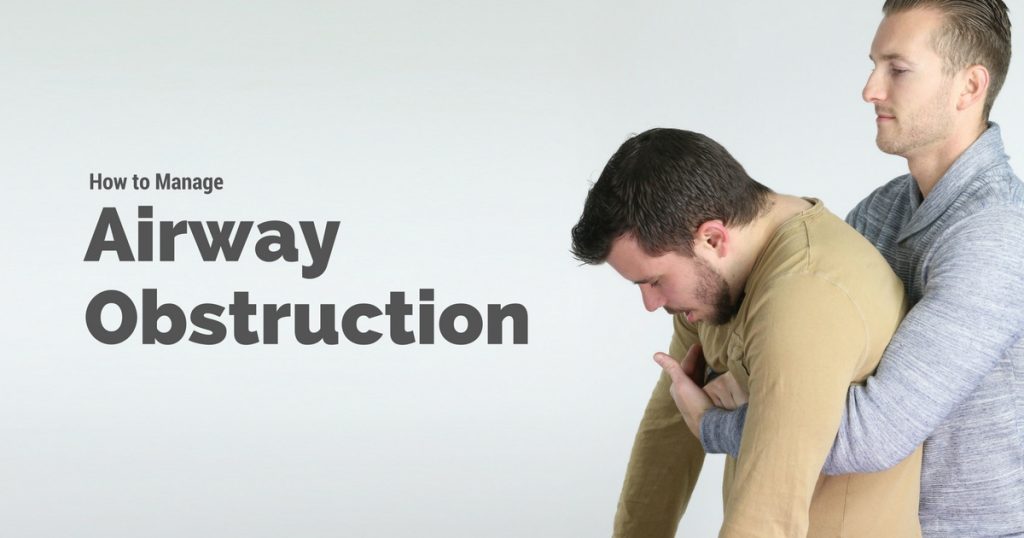 Advanced Cardiac Life Support (ACLS) certification from the American Heart Association (AHA) verifies an individual understands how to handle a cardiovascular emergency. As such, it remains a crucial certification for healthcare professionals across the United States and ensures they know how to assist sudden cardiac arrest (SCA) victims in a variety of life-threatening situations.
Effective airway management is a core topic covered in an ACLS certification course. Without proper airway management, an individual may suffer from  a severe lack of oxygen as their airway is blocked.
An airway obstruction can cause serious health problems and may result in death. But an ACLS-certified individual knows how to deal with difficult airway management situations and is trained in different ways to remove or prevent an airway obstruction.
To better understand the importance of airway management, let's take a closer look at the most common ways a person's airway can become obstructed, and why this topic is a crucial component in ACLS certification training.
What Causes an Airway Obstruction?
 An airway obstruction prevents air from reaching the lungs and may occur for several reasons, including:
The Tongue – If a person is unconscious and lying flat on their back, their tongue can fall back into their throat and block their own airway, preventing air from entering the lungs.
Foreign Object – If a person swallows or inhales a foreign object, this item may block the airway, resulting in choking, coughing and wheezing.
Chemical Burns – Harmful chemicals that touch the skin may cause an acute upper airway obstruction that could affect the trachea, voice box and throat.
Smoke Inhalation – Breathing in smoke may lead to shortness of breath, coughing and noisy breathing.
In addition, an airway obstruction often occurs without notice and can be treated in many ways.
If an object obstructs the airway, a special instrument may be used to remove the item. In other cases, an endotracheal tube could be used to create a passageway into the victim's lungs to help the victim breathe, while a tracheostomy or cricothyrotomy (an opening through the neck into the airway) also may be used for airway obstruction treatment.
What Are Some of the Complications Associated with an Airway Obstruction?
 Emergency airway management is essential for those who suffer an airway obstruction; otherwise, an airway obstruction that goes unaddressed could result in:
Breathing failure
Brain damage
Death
Ultimately, understanding how to provide effective airway management assistance empowers healthcare personnel to deliver reliable support to airway obstruction victims. And with ACLS certification training, you may be able to help airway obstruction victims both now and in the future.
Why Should You Become ACLS-Certified? 
There are many ways to prevent an airway obstruction, including:
When eating, chew slowly and carefully to ensure any food is chewed and swallowed completely. For those who wear dentures, ensure the dentures fit properly for proper chewing and swallowing.
Keep small objects away from children to eliminate choking and swallowing hazards.
Avoid excessive alcohol consumption before or while eating.
Of course, ACLS certification training provides a great opportunity to learn about difficult airway issues and how to prevent such problems.
ACLS classes focus on a number of key topics, such as:
Basic Life Support (BLS) and cardiopulmonary resuscitation (CPR)
How to initiate the ACLS process
The best ways to deliver airway management assistance
Recognition of arrhythmias
Use of appropriate medications and electrical therapy
When it comes to delivering airway management support, you'll want to become ACLS-certified. By doing so, you can learn the ins and outs of airway management and be able to assist airway obstruction victims at any time.
Why Should You Choose SureFire CPR for ACLS Certification? 
An airway obstruction can be a life-threatening occurrence, one that should be taken seriously. Fortunately, you'll be able to receive comprehensive airway management insights and other helpful tips from experienced medical professionals if you enroll in an ACLS certification class from SureFire CPR.
There's no telling when an airway obstruction emergency may arise, which means you'll need to be ready to provide airway management assistance quickly and efficiently. With our extensive ACLS certification training program, however, you'll be able to discover what it takes to provide airway management support. You also may become a key contributor in an airway management emergency because you'll be able to help airway obstruction victims.
At SureFire CPR, we offer an ACLS Initial Class that covers many topics, including:
ACLS pharmacology terms and definitions
Recognition and management of SCA
How to become both a leader and team member in a resuscitation team
Our ACLS class is taught by experienced medical professionals who serve as ACLS experts as well. That way, you can learn from emergency medical technicians (EMTs), paramedics, firefighters, and other medical personnel who possess real-world experience. These instructors will be glad to answer any concerns or questions you may have and guarantee you can enjoy a world-class learning experience, too.
Furthermore, our ACLS class makes it simple to earn your ACLS certification without delay.
This class takes approximately 12 hours to complete and provides a combination of hands-on lessons and classroom sessions to ensure you understand what it takes to deliver first-rate airway management support. Plus, upon successful completion of our class, you'll receive an ACLS certification card that will remain valid for two years.
Becoming ACLS-certified empowers you to make a difference in the life of an airway obstruction victim. In fact, our ACLS class commonly helps bystanders become life-savers in airway management emergencies and other life-threatening events.
Clearly, an airway obstruction represents a serious problem that may cause harm or death. But with ACLS certification training from SureFire CPR, you can benefit from a superior learning experience that enables you to become ACLS-certified so you can provide lifesaving assistance in a broad range of critical situations.