Where to Find the Best ACLS Certification
Anyone who works in the medical field recognizes the value of an ACLS certification. Advanced cardiac life support training is invaluable in a medical emergency. People who work in health clinics, hospitals and doctor offices may occasionally encounter life-threatening emergencies. In these situations, quick action is needed to save a life. Thus, it's imperative for personnel to be up-to-date on their training.  What do you look for in the best ACLS certification?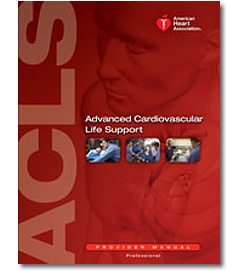 Here are a few things to look for to make sure that your ACLS certification is top notch:
Quality instructors who still work in the field and practice ACLS on a regular basis

Small class sizes with personal instruction.

Equipment that is top of the line
American Heart Association certification cards that are received the same day.
Multiple locations and times to choose from.
Surefire CPR offers a variety of life-saving courses, including ACLS certification. Classes are available at different times throughout the year. Whether this is your first time enrolling in an advanced cardiac life support training class or you need a refresher course, our instructors can provide the skills you need to handle an emergency.
There are different ways to acquire your certification. Attend a class at our facility, or bring the instruction to your office. We also offer private in-house training courses. To learn more about ACLS and upcoming classes, register online at SureFire CPR.
ACLS classes are common among people who work in the medical field. Whether you work in a doctor's office, a hospital, a clinic or emergency response, a background in advanced cardiac life support can be the difference between life and death. But in reality, you may never use the skills you learn in class. A certification prepares you "just in case" of an emergency. However, if you don't practice these techniques on a regularly basis, you may forget basic skills. For this reason, it's beneficial to enroll in the best ACLS class.
Advanced cardiac life support training isn't something you need on a yearly basis. However, if it's been more than two years since your last class, it is time for your ACLS renewal.  ACLS Classes in Orange County are available at various times. You can attend a class on your own, or with your coworkers. Talk to your employer about group classes. If given the green light, we can bring ACLS classes to you. We offer private home sessions, as well as classes at businesses for groups of 80+.
To learn more about advanced cardiac life support training or to schedule a class, call SureFire CPR today.