How Common Are California Wildfires?
At least 3,574 wildfires occurred in California in 2022, according to the California Department of Forestry and Fire Protection (CAL FIRE). These fires burned approximately 17,326 acres of land.
What to Do Before a California Wildfire
Separate your home from flammable materials. Create at least 30 feet of space between your home and flammable vegetation and materials.
Trim trees and shrubs. Ensure trees and shrubs do not come into contact with electrical wires or hang over your home's chimney.
Clean your home's roof. Remove pine needles, leaves and other debris from your home's roof.
Store combustible materials properly. Store combustible or flammable materials in approved containers.
Pick up battery-operated flashlights and radios. Keep battery-operated flashlights and radios with additional fresh batteries in a safe, easy-to-access location in your home.
What to Do During a California Wildfire
Stay up to date. Use a TV or radio to receive wildfire emergency updates.
Set up hoses and water. If possible, fill buckets with water and set up hoses outside your home.
Turn on the house lights. Activate the lights in each room of your home.
Remove flammable drapes or curtains. Take down flammable drapes or curtains in your home.
Get ready to evacuate. Prepare all family members and pets to evacuate your home.
What to Do After a California Wildfire
Contact local fire officials. Check in with local fire officials to find out if it is safe to return home.
Look for hot spots. Check the ground for smoldering stumps and other hot spots and use buckets of water on these spots as needed.
Examine your home's exterior. Look for sparks and embers across your home's roof and exterior areas.
Evaluate your home's interior. Keep an eye out for hidden burning in each room of your home and assess fire damage.
Call 911. Contact 911 if you identify any potential dangers.
California Wildfire Evacuation Preparation Checklist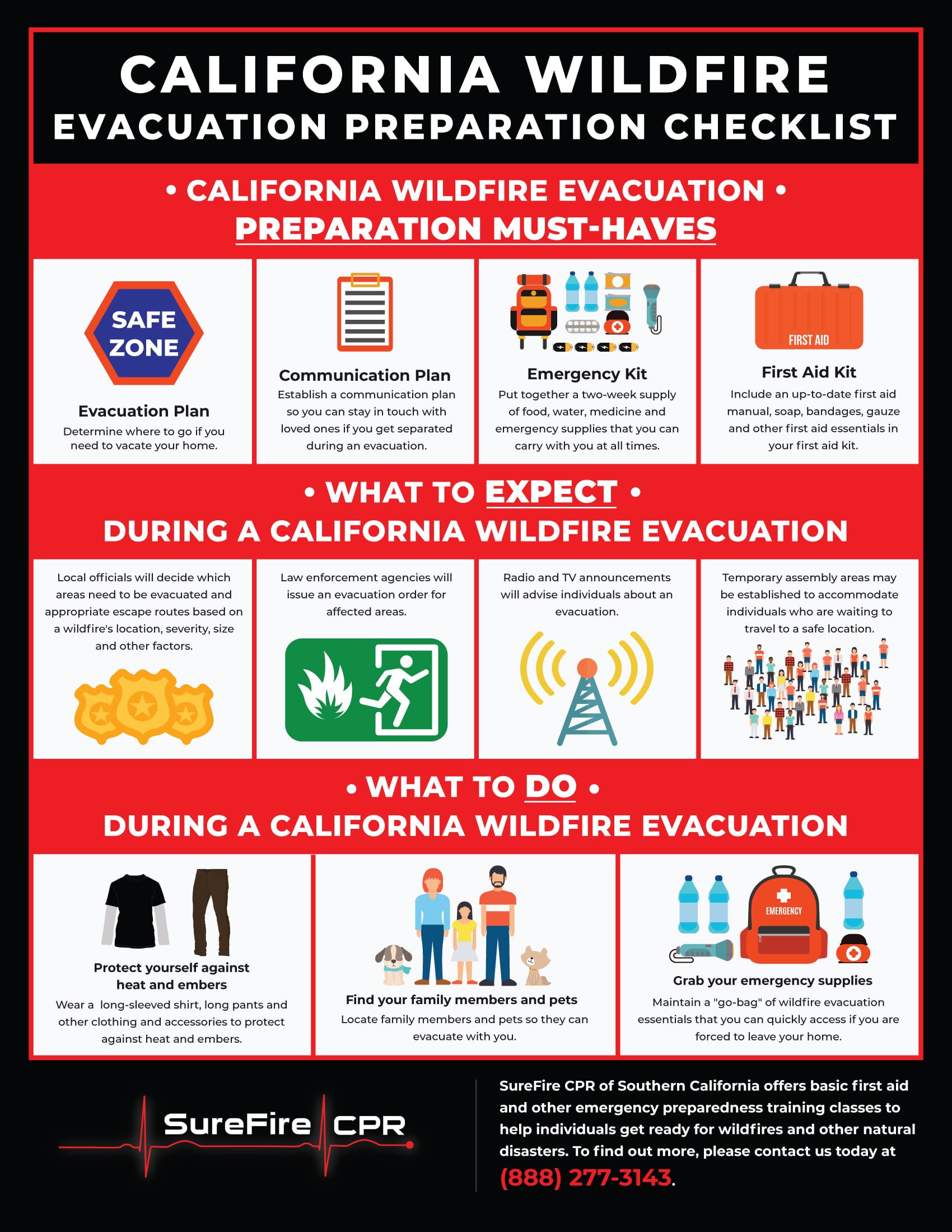 California Wildfire Evacuation Preparation Must-Haves
Evacuation Plan: Determine where to go if you need to vacate your home.
Communication Plan: Establish a communication plan so you can stay in touch with loved ones if you get separated during an evacuation.
Emergency Kit: Put together a two-week supply of food, water, medicine and emergency supplies that you can carry with you at all times.
First Aid Kit: Include an up-to-date first aid manual, soap, bandages, gauze and other first aid essentials in your first aid kit.
What to Expect During a California Wildfire Evacuation
Local officials will decide which areas need to be evacuated and appropriate escape routes based on a wildfire's location, severity, size and other factors.
Law enforcement agencies will issue an evacuation order for affected areas.
Radio and TV announcements will advise individuals about an evacuation.
Temporary assembly areas may be established to accommodate individuals who are waiting to travel to a safe location.
What to Do During a California Wildfire Evacuation
Protect yourself against heat and embers. Wear a long-sleeved shirt, long pants and other clothing and accessories to protect against heat and embers.
Find your family members and pets. Locate family members and pets so they can evacuate with you.
Grab your emergency supplies. Maintain a "go-bag" of wildfire evacuation essentials that you can quickly access if you are forced to leave your home.
SureFire CPR of Southern California offers basic first aid and other emergency preparedness training classes to help individuals get ready for wildfires and other natural disasters. To find out more, please contact us today at (888) 277-3143.