Summertime Emergencies
Summertime is a great time for family vacations and long, hot days "playing" in the sun.  It's also a great time for sun-related injury.  How do you enjoy the summer sun and handle those pesky sunburns when they happen?  There's an answer for keeping F-U-N in your summer.
Emergency departments all over the United States see an increase in burn related accidents during the summer months.  People are more active in general, spending time outside in the sun, particularly around water.  Beaches and lakes become a tremendous draw when the temperatures rise.  Even with sunscreen, the water can occasionally dilute "water proof" protection and frequent application of sunscreen lotions and sprays is advised with some products.  However, with the most diligent attention to preventing sunscreen, sunburns will occur, leaving painful red areas of skin – even blistering – in their wake.  These types of burns are considered first degree burns and can be miserable for anyone suffering from them.  With the magnification of the suns rays against beach sand and water, it's critical to be aware that sunburns can happen even with the best sunscreen available.
But sunburns are not the only burn injuries occurring during the hot summer months.  Common are injuries sustained from hot objects and fires.  Sitting around the campfire is one of the favorite past-times of summer.  It's not uncommon to see burns resulting from touching a burning object, such as a stick or ember.  This is particularly true for children.  These burns can be more serious.  Knowing the best way to treat such localized injuries is critical as they can turn from minor into critical burns within moments.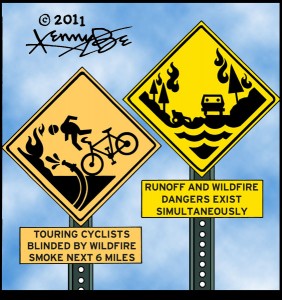 Utilizing a numerical scale to judge the severity of the burn injury, Emergency personnel can begin immediate application of protocols utilized to save life or limb.  But what is the right thing to as soon as the injury occurs?  What can you do when a friend or family member is burned while in a remote area and 911 help is far away?  There are steps that can be taken and training for this can be found locally.  Knowing what to do to prevent burns such as these is the first step but knowing how to care for a burn can save valuable time and suffering.
July 4th is one of the highest injury related dates during the year.  Fireworks and sparklers are often the culprit.  Frequently, children are the highest number injured as they tend to grasp the smoldering end of a just burned-out sparkler.  Hand burns are common and can be more severe than those seen in fire injuries.  Additionally, bottle rockets, Roman candles and firecracker injuries are common leaving critical burns, loss of fingers and even blindness.  These types of burns are some of the most severe and are to be taken very seriously.
Fortunately, proper training in Basic First Aid and refresher courses in Basic First Aid Recertification can give the knowledge and skills required for even the most severe burns.
Basic First Aid Training is the Answer
SureFire CPR located in Orange County offers the best Basic First Aid training available in Southern California.  Learning what to do when burns occur keeps F-U-N in summertime.  Call today to schedule your class in Basic First Aid and have a great summer!