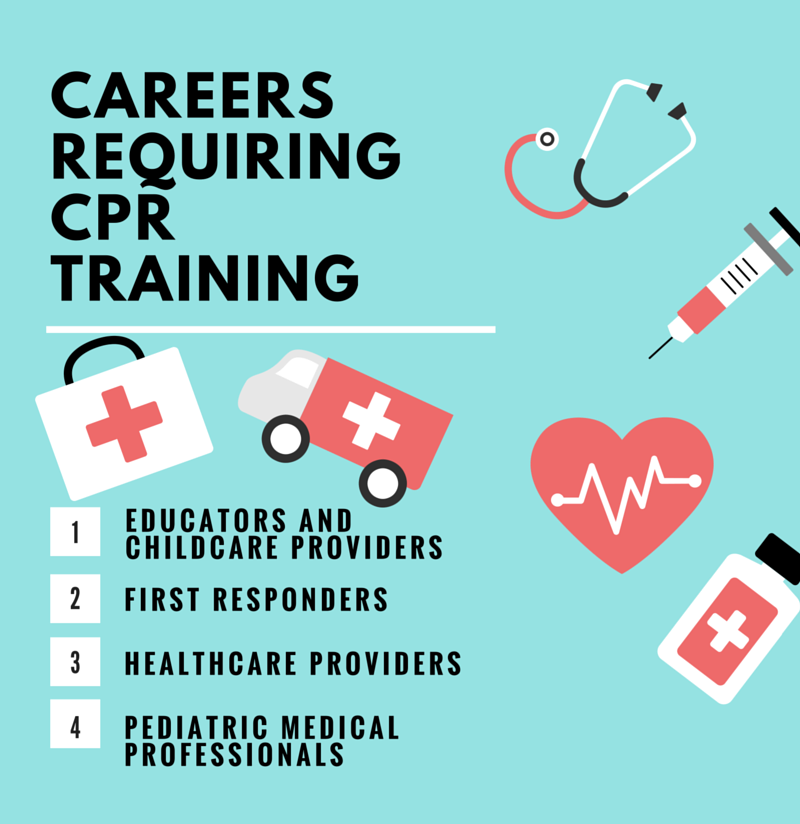 In recent years, more and more career fields are requiring employees to undergo certification training to prepare themselves to handle emergency situations. And for good reason. According to a recent study written on the survival rates of out-of-hospital cardiac arrests, 8 out of 10 cases happen outside of a hospital, specifically at home or work, and there are nearly 326,000 of these cases every year! It is necessary for employees in all types of industries to understand the life-saving skills of CPR because it most often lies within the hands of a bystander to save an unconscious victim.
Whether you are studying for a new career, looking to change job positions, or merely curious as to what your dream job requires regarding ongoing education and certification, here is a list of the career fields that require CPR certification, as well as the particular types of CPR they demand.
Educators and Childcare Providers
 While these professionals don't work in hospitals, teachers, childcare providers, and daycare workers may see a health-related emergency while on the job. For example, accidents including choking and drowning are the number one cause of death in children from birth to age 14, so these typically non-medical positions may see more emergencies than you may realize.
Educators and childcare providers like daycare workers and even nannies are required to complete CPR and First Aid to qualify for hire. During the certification course, students will learn how to help an unconscious and conscious choking infant, child, and adult; how to help a drowning infant, child, and adult; how to give infant, child, and adult CPR; how to use an AED on children and adults; and how to give First Aid to infants, children, and adults with common injuries and illness.
First Responders
 A first responder is a medical professional who is trained to respond to emergencies, and they include firefighters, lifeguards, EMT's, and paramedics. These professionals require CPR certification training, but require a more advanced training than basic CPR and First Aid. First responders may need to complete the Basic Life Support (BLS) certification course to be prepared to recognize and treat medical emergencies.
BLS certification courses teach in-hospital and out-of-hospital professionals one and two-rescuer CPR for infants, children, and adults; the differences between infant, child, and adult rescue methods; bag-mask techniques for adults, children, and infants; how to help a choking adult, child, and infant; and advanced airway with CPR.
 Healthcare Providers
 This category of employees refers to all those who work closely with patients in a hospital or clinical setting. Medical professionals include physicians, registered nurses, CNAs, emergency responders, physical therapists, respiratory therapists, nutritionists, and those in intensive care and critical care units. These professionals respond to acute emergencies every day as a part of their jobs, including mild injuries and illnesses, and severe medical conditions like cardiac arrest and heart attack. Medical professionals need to understand ECG rhythms, their corresponding algorithms, and the appropriate medication for different conditions.
All Healthcare professionals require the Basic Life Support Training as mentioned above and most healthcare professional also require advanced skills training as a fundamental prerequisite. This advanced training includes Advanced Cardiovascular Life Support (ACLS). ACLS teaches recognition and management of respiratory and cardiac arrest; recognition and treatment of peri-arrest; airway management; pharmacology; management of stroke and acute coronary syndromes; and how to effectively communicate as a team member.
Pediatric Medical Professionals
 Healthcare providers who frequently see critically ill and injured infants and children will require specialized training in addition to BLS and ACLS. Pediatric Advanced Life Support (PALS) is a certification course that is meant specifically for medical personnel who respond to pediatric emergencies and who may work in emergency response, emergency medicine, and intensive care units. These professionals include physicians, nurses, and paramedics.
If your current or future career requires any of these certifications, go to SureFire CPR for more information concerning their quality training, including how to sign up for initial and refresher courses.