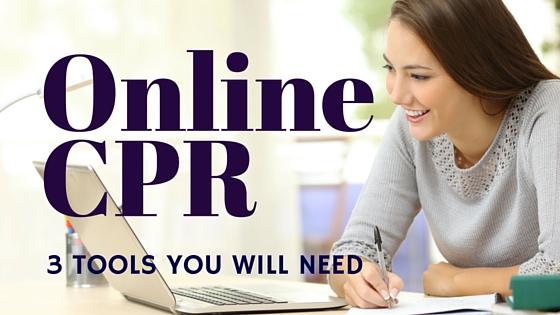 Ready to become cardiopulmonary resuscitation (CPR) and advanced cardiovascular life support (ACLS) certified? The days of sitting in a classroom all day to gain these certifications are over; instead, you can take advantage of the new blended learning options that are available.  They consist of an online portion of the course for CPR certification and ACLS certification and then once that is complete, a short skills test is available at a local training center at a time that is convenient for you.
Online CPR certification courses remain viable options for a number of reasons.
First, these classes enable you to learn how to deliver CPR and ACLS at your convenience. Simply check out the online tutorials at any time, and you can build your CPR and ACLS skill sets simultaneously.
Completing online CPR and ACLS certification courses, however, requires quick, easy access to several tools. These include:
A properly functioning computer – Ideally, you'll want to use a desktop computer or laptop to complete your online certification courses. But if necessary, you also can use a smartphone or tablet to access these classes.
A pen and paper – Take notes throughout your certification classes – you'll be glad you did. With a pen and paper nearby, you should have no trouble taking notes that you can review at your leisure. And don't forget, you can utilize Microsoft Word or other note-taking programs on your computer in lieu of a pen and paper as well.
A working printer – Want to print out some of your course materials? With a working printer, you'll be able to retrieve paper copies of any online content. Also, at the end of our your course, you will receive a completion certificate that you should bring to the training center that will be testing your skills.
Of course, online CPR and ACLS certification provides you with the knowledge and testing you'll need to succeed, and then you can enroll in the skills session from SureFire CPR. They offer a wide variety of times and locations for you to complete the skills portion.
SureFire CPR's certification courses are taught by firefighters, lifeguards, paramedics, nurses and emergency medical technicians (EMTs) who understand what it takes to become CPR and ACLS certified. And by taking your skills session with SureFire CPR, you'll be able to interact with these professional instructors and ask them any questions that you may have.
Each of SureFire CPR's courses cover a wide range of topics, too.
For instance, SureFire CPR's certification for CPR tutorials provide details about:
Adult, child and infant CPR
How to utilize an automated external defibrillator (AED)
Tips for assisting both conscious and unconscious choking victims of all ages
SureFire CPR's in-depth ACLS courses offer insights into numerous subjects as well, including:
Airway management
ACLS pharmacology
Recognition and early management of respiratory and cardiac arrest
Basic life support (BLS)
Management of acute coronary syndromes and stroke
How to serve as both a leader and team member of a resuscitation team
Ultimately, online CPR and ACLS certification programs deliver exceptional value while still getting the quality instruction you are used to from SureFire CPR. And by enrolling in certification classes from SureFire CPR, you'll be able to become CPR and ACLS certified quickly and easily.
Take advantage of the online CPR and ACLS certification classes available from SureFire CPR. Contact SureFire CPR at (888) 277-3143 or visit its website today to learn more about its online courses.