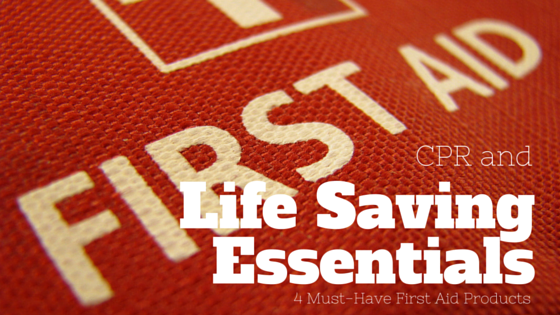 Do you have what it takes to deliver effective first aid? You likely will need a variety of first aid products to guarantee you're able to provide immediate support in a life-threatening situation.
Some of the must-have first aid products include:
Keychain Mask
A keychain mask empowers anyone to perform cardiopulmonary resuscitation (CPR) and protect themselves while doing it. Plus, this mask is portable and affordable, making it exceedingly valuable to carry with you at all times.
Keychain masks are easy to use, too. Simply secure the mask to a sudden cardiac arrest (SCA) victim's face, and you'll be able to perform CPR quickly and efficiently.
Furthermore, keychain masks are available from SureFire CPR that offer a number of features, including:
1-way valve for added rescuer protection.
Provided in a 100 percent nylon pouch for exceptional durability.
Includes a high-quality stainless steel key ring.
Available in black or red.
SureFire CPR's keychain masks are designed for single use only. In the event that you use your keychain mask in an emergency, give us a call and tell us about your experience and we'll be happy to replace it for free.
Pocket Mask 
Another type of mask that can be used is a pocket mask, a versatile plastic bladder that enables you to deliver CPR correctly at any time.
Like the keychain mask, the pocket mask is compact and simple to carry with you. The pocket mask is stored in a hard clam-shaped shell, allowing you to store and pack the mask without damaging it.
In addition, SureFire CPR offers a pocket mask that includes the following:
A CPR pocket mask that features a 1-way valve and head strap.
Two gloves.
Two antiseptic wipes.
Instructions to teach you how to utilize the mask and secure it to a victim's face in an emergency.
SureFire CPR also takes pride in offering pocket masks that guarantee you'll be able to deliver CPR effectively without having to worry about breaking your budget. That way, you can pick up a pocket mask at a budget-friendly price, place this mask in your backpack, car or home and be better equipped to perform CPR quickly and safely at a moment's notice.
Splint 
How can you assist a wounded victim in an emergency? With a top-notch splint at your disposal, you'll be ready to support a victim who suffers a fractured or broken limb.
Of course, when it comes to picking up a splint, only the best will suffice. And with a splint from SureFire CPR, you can reap the benefits of a splint that features:
Lightweight and compact design.
Latex-free construction.
Aluminum core and two layers of closed-cell foam for best-in-class strength and support.
The SureFire CPR splint is easy to mold and reusable too, making it a great first aid product that will serve you well for years to come.
First Aid Kit 
A first aid kit represents a must-own for just about anyone, as this set of medical supplies and survival tools ensures you'll be able to support a victim in all types of emergencies.
Not all first aid kits are created equal, however, and it is important to find one that includes first aid essentials that will help you deliver instant support to a victim in a life-threatening scenario.
Comparatively, the SureFire CPR first aid kit offers an ideal set of medical supplies and survival tools and includes:
Fabric adhesive bandages in multiple sizes.
Elastic bandages with clips.
Plastic bandages.
Butterfly bandages.
Dressing gauge in several sizes.
A pair of nitrile gloves.
A trauma pad.
Pre-cut and shaped moleskin.
A cold pack.
Safety pins.
A disposable thermometer.
Splinter picker/tick remover forceps.
Manual that details how to care for children outdoors.
Insect repellent.
Antiseptic wipes.
Cotton tip applicators.
Triple antibiotic ointment.
When it comes to your first aid kit, why should you be forced to leave anything to chance? Instead, picking up a top-of-the-line first aid kit guarantees you will have everything you'll need to deliver reliable assistance in an emergency.
Become CPR certified with support from SureFire CPR 
What does it take to provide life-saving support in an emergency? Picking up crucial first aid products is important. Also, you should consider becoming CPR certified to learn the necessary skills to deliver life-saving assistance in critical scenarios.
Fortunately, SureFire CPR empowers students to find out how to perform CPR properly. We teach CPR certification classes at a number of campus locations across Southern California, ensuring you can enroll in a course that is near your home and fits your schedule. Plus, our instructors are medical professionals who understand the ins and outs of CPR and will work with you to guarantee you're ready to perform CPR at any time.
Enroll in one of our CPR certification classes today, and you'll be able to become CPR certified in a short period of time.
To learn more about our CPR certification courses, please contact us today at (888) 277-3143.