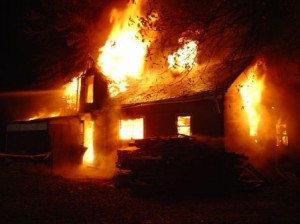 On many occasions, I have been asked, "What's it like to run into a building that's on fire?" "How does it feel to run in when everyone else is running out?"
Ironically, it is nothing like you see in Hollywood movies.  If it was, they wouldn't sell too many tickets at the box office. When you think of firefighting what images pop into your head? Is it Joaquin Phoenix in Ladder 49 or Kurt Russell in Backdraft? Are they heroically dragging the hose into a house? Flames licking at the furniture and drapes?  Crawling into the inferno searching for lost or trapped victims? You see the flames and can make out all of the objects in the room.
In reality, first you need to imagine putting on your warmest ski clothes.  Next you will put on your 25lb. breathing tank and fasten your pickhead axe scabbard around your waist.  As the engine pulls up, you see smoke billowing from the eaves of the 2 story house that is on fire.  A family of 3 is standing out front, and you ask, "Is everyone out of the house?"  They respond, "We're all out here."  The windows are smoke-stained and there is an orange glow emanating from within. You pull hose from the fire engine and drag it to the front door.  As you call for the hoseline to be charged with water, you seal the mask on your face, turn on your flashlights, and get ready to open the door.
In the next post, you will see what lies behind the door.  Our CPR classes focus on the real life experiences from our elite team of instructors.  Do you need a Los Angeles CPR Class? SureFire CPR's professional instructors teach CPR classes in all of Orange County, San Diego, and Southern California.  Call us today to schedule your training! 888-277-3143.