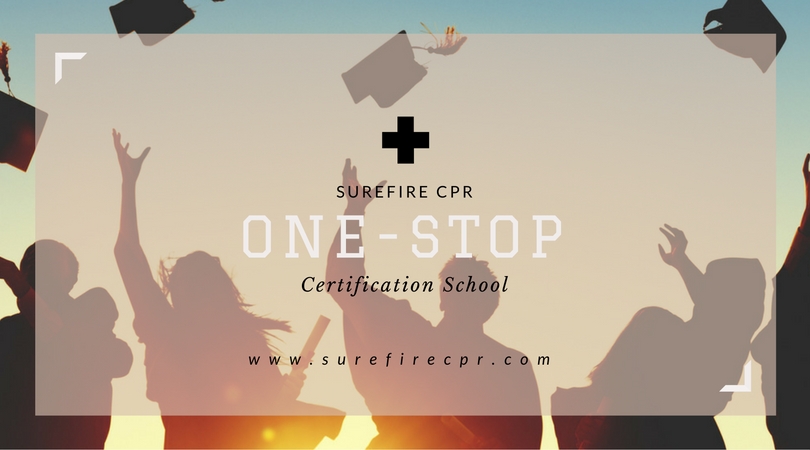 SureFire CPR wants students to become life-savers, i.e. individuals who are ready to deliver cardiopulmonary resuscitation (CPR), Basic Life Support (BLS) and other critical assistance. As such, we offer a wide range of Lifesaving Training Packages that empower students to become fully prepared to support adults, children, and infants in emergencies.
Here's a closer look at each of our Lifesaving Training Packages and how they can help you earn multiple lifesaving certifications quickly and efficiently.
3 Star Package 
Our 3 Star Package emphasizes lifesaving training in three key areas:
BLS for the Healthcare Provider – This class will teach you how to perform adult, child and infant CPR, use an automated external defibrillator (AED) and more.
Advanced Cardiac Life Support (ACLS) – During this course, you'll learn how to identify and address sudden cardiac arrest (SCA) and other respiratory issues, perform airway management techniques and control various coronary symptoms and stroke. As a result, you'll be ready to become a successful leader and team member in a resuscitation team.
Pediatric Advanced Life Support (PALS) – Want to find out how you can assist seriously ill children and infants in life-threatening situations? Our PALS class will define PALS pharmacology terms and teach you how to take a systematic approach to pediatric assessment. 
In addition, if you enroll in our 3 Star Package today, you can receive an 18 percent discount. 
3 Star Plus Package 
Our 3 Star Plus Package offers ACLS and PALS training, along with an Electrocardiography (ECG) and Pharmacology.  The ECG course is meant as a pre-course for ACLS and will help students familiarize themselves with the concepts and methods used in ACLS.  The ECG class covers:
How to use a heart monitor properly
ECG measurements and arrhythmias
The correct drug dosage and definitions of drug-related terms
12 ECG lead placement and overview
By enrolling in our 3 Star Plus Package, you can save over 18 percent on each course.
4 Star Package 
Our 4 Star Package includes our BLS, ACLS and PALS courses, along with your choice of an ECG and Pharmacology class or Neonate Resuscitation Program (NRP) skills session.
With our 4 Star Package, you can save over 20 percent on each course, too.
5 Star Package 
Our most complete Lifesaving Training Package, our 5 Star Package includes classes that focus on:
BLS
ECG and Pharmacology
ACLS
PALS
NRP
Enjoy World-Class Lifesaving Training Packages from SureFire CPR 
At SureFire CPR, we're committed to our students' success. To help students learn how to perform lifesaving techniques, we offer a first-rate learning environment that combines hands-on training and classroom lessons. That way, students can bolster their skill sets and learn what it takes to deliver crucial support in life-threatening scenarios.
Plus, we employ emergency medical technicians (EMTs), paramedics and other experienced medical personnel as instructors to ensure our students are fully supported. And if you ever have concerns or questions along the way, our instructors will be happy to assist you in any way they can.
Sign up for one of our Lifesaving Training Packages, and you can become better equipped to deliver lifesaving support in emergencies.
To learn more about our Lifesaving Training Packages, please contact us today at (888) 277-3143.