Surf's up! Summers here – time to get outdoors and play!
The beaches of Southern California are alive with people taking advantage of this beautiful state.  The coastline has always been a popular destination for daytime "getaways" or week long vacation stays for travelers from all over the world.  Every summer California beach towns swell with visitors from as far away as Denmark and as close as Las Vegas, Nevada.  There is so much to do!  As a visitor to our coast, vacationers must be careful of the unseen hazards on the amazing Pacific coastline. Southern California Beach Safety is critical.
So what does it take to remain safe during a trip to a Southern California beach? Here are five beach safety tips that you need to know about:
Enjoy a Safe Drive to the Beach.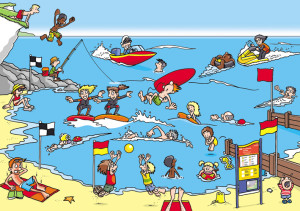 Safety starts on the journey to the beach.  Commuting to the beach of course usually involves a short drive – don't forget the seatbelts and sunscreen.  California drivers do have a competitive spirit so pack your defensive driving skills.  Be aware of where you park and nature in the surrounding area.  Mindfulness of the natural habitat living on the beaches keeps them beautiful and prevents injury to guests.
Identify Beach Dangers.
Once at the beach it's time to relax and enjoy the warm sun and cool water.  Most California beaches are lifeguard protected beaches.  Hazard signs are posted at all lifeguard towers when lifeguards are present to avoid undue risk.  Paying attention to some of the unseen hazards saves lives.  Rip tides are common on our beaches. A rip tide is a type of undertow combined with a cross current that is not readily visible to the casual onlooker. The danger of a riptide is that once in the ocean, swimmers can be pulled unawares out in deeper waters by these strong currents.  The undertow is very subtle and strong.  Even experienced swimmers can find themselves in trouble if caught in a rip tide which gently pulls them out to sea, sometimes beyond the breakers.  Swimmers have to use depleted strength to swim back to the shore.  Panic can set in and this is one of the most common causes of life guard rescues in the summertime.
To alert the public to the presence of beach riptides, lifeguards post a distinctive flag on the beach.  Typically this is a red flag which may be accompanied by a black and white striped flag.  To be safe, always check with the lifeguards about the swimming conditions. Always swim in an area that is marked as guarded by the lifeguards.
Drink Plenty of Water. 
Although you may use a lot of sunscreen while you spend time in the sun, you'll want to stay hydrated throughout your beach trip, too. Thus, you should try to drink plenty of water during the day to avoid the dangers associated with dehydration.
Dehydration occurs due to the excessive loss of body fluids and may result in dizziness, weakness, dry mouth and fainting, among other issues. Fortunately, those who pack a cooler filled with ice-cold beverages are better equipped to combat the dangers of dehydration.
Don't forget to get out of the sun if you start to feel dizzy or nauseous. By doing so, you can relax in the shade, grab a chilled beverage and minimize the impact of dehydration symptoms before they potentially ruin your beach day.
Swim Safely. 
Are you an experienced swimmer? If so, you probably know all about the importance of entering the water feet first, and you should continue to do so if you swim at the beach.
Entering the water feet first limits the risk of serious, lifelong injuries that otherwise could occur if you dive headfirst into shallow water. Therefore, a slow, steady approach to entering the water is ideal for those who want to enjoy a safe day at the beach.
Inexperienced swimmers also should take extra precautions before they enter the water. In most cases, wearing a life jacket is a great idea for those who want to spend an extended period of time in the water without putting themselves in danger.
Life jackets are easy to obtain and can make a world of difference for inexperienced swimmers of all ages. And with a high-quality, United States Coast Guard-approved life jacket, you'll be better equipped to keep your head above water at all times. 
Embrace a Personal Safety Mindset.
Personal safety is a mind-set that keeps us engaged in our world and proactive in protecting ourselves and our loved ones.  Do you know what to do when water emergencies occur?   Near-drowning, sea-life bites or stings and physical injury that occasionally occur during beach recreation can be frightening.  But it doesn't need to be.  You can be prepared to act, should that emergency take place.  SureFire CPR believes in safety.  We offer CPR, AED, and First Aid at three locations in Orange County. Be safe, be prepared and go to the beach! Embrace a personal safety mindset with support from SureFire CPR, and you'll be able to protect yourself and others if life-threatening beach emergencies arise.
To learn more about the life-saving courses offered from SureFire CPR, please contact us today at (888) 277-3143.