It's my first day of 'clinical' in the hospital and theoretically, I'm ready to save lives.  I have studied human anatomy, physiology, microbiology, chemistry, statistics, English, algebra and art.  I've completed my Emergency Medical Technician certification and have the document to prove it. Yes, theoretically I am ready to save lives.
In reality, I have never done real life CPR.
I think I'm ready to get started saving lives.  I have spent almost four years preparing for this day.  Despite the hundreds of hours spent pouring over the details of the structure and function of the human body, I am ill prepared for the reality of life and death.  Book smart, yes – street smart, no.
Real Life CPR in Action
Mrs. Cranston changed everything.  As a clinical instructor, she is responsible for guiding and mentoring her students.  Intimidating in her quiet observing manner, she communicates more by her silence than anything else. Biology Research Paper Topics
Walking through the various hospital departments, a concerto of organized chaos prevails.  People earnest in tasks filled with purpose and intention fly through the hallways.  It's an observation day for me and I finally understand that Mrs. Cranston is observing me more than anything else.  Now in the Emergency room, after touring the entire hospital, we're exactly where I want to be.
The ER is like a separate entity from the rest of the hospital.  Instead of hope, an odd desperation hangs in the air.  People in street clothes lay on gurneys in the hallway.  They aren't fully considered patients still in street clothes – pending patients perhaps while waiting for the backless issued gown.  A young girl holds her grandmothers hand.  Every room is full to capacity.  The blare of a radio goes off overhead, the imminent announcement of more patients.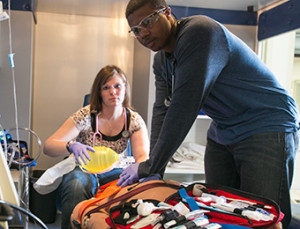 The tension within the ER ticks up a notch and I can hear a child's fearful cry in an adjacent bay.  Just then, I hear a desperate "Grandma!" from the young girl hovering over the aged woman on the gurney in the hallway.  Its clear that Grandma has taken a turn for the worse, her jaw slack and hers eyes vacant.  My mentor, instructor Mrs. Cranston, leaps past me to Grandma, quickly intervening.
Seconds pass, Mrs. Cranston looks over her shoulder and staff rapidly approaches as she motions me over to help.  "Lay her flat."   I do as I'm told.  The side rail drops and someone wheels a red cart up behind us.  My instructor directs me to start chest compressions. Under my hands it feels like layers of ice breaking under footsteps.  As I press life into her heart, each compression etches itself into my memory.
So this is real life CPR.
SureFire CPR stands with you, ready to make a difference.  They are a medical education company but more than that, they are your co-workers. SureFire CPR gets the spirit, the heart, the commitment that healthcare professionals bring to those in their care everyday.  In Orange, Los Angeles, Riverside and San Diego counties, SureFire CPR offers a variety of classes – Basic CPR, First Aid, Pediatric Advanced Life Support, as well as Advanced Cardiac Life Support are all courses available throughout the year.  Visit SureFire CPR.com for details.
Be ready when real life CPR is needed.