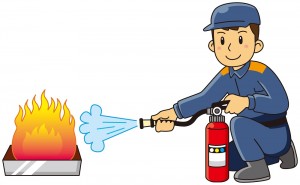 Healthcare has seen many transformations and updates over just the past few decades. One of these continual updates are the procedures for handling a fire in the hospital.  According to the NFPA, the number of hospital fires is decreasing from year to year, the number dropping from nearly 3,000 in the early 1990's to 1,200 in 2010. As technology improves and methods and society continues to change, the need for consistent hospital fire safety training is crucial to the continual decrease of hospital fires.
The Life Safety Code (LSC), published by the NFPA, updates its fire safety requirements every 3 years, and regulations update for how to handle certain situations as well.
 What Are The Newest Hazards That Affect Hospital Fires?
More aging persons are entering hospitals, increasing the patient load.
More large equipment equals less room for escape.
More alcohol-based disinfectants are used, aiding in the spread of a fire.
New regulations allow for certain doors to be locked, potentially complicating exit strategy.
What Are The Newest Changes To Hospital Fire Safety Regulations?
 Published with the NFPA, the Centers for Medicare and Medicaid Services issued the newest requirements for healthcare facility fire safety in 2012. Some of these changes include allowing a centralized computer system to monitor sprinkler systems; more exits allowed through otherwise unoccupied spaces used for mechanical equipment; door locking arrangements for risky patients, and less frequent testing for automatic sprinkler systems.
 Why Is It So Important To Receive Current Hospital Fire Safety Training?
 The increase and advancement of automatic sprinklers has significantly helped to reduce hospital fires, but one of the main reasons for improvement has been greater staff training and higher expectations that every member receives it. As your hospital continues to add exit doors through previously unusable rooms, more bulky equipment, and more patients, it is crucial to receive current training and practice updated exit strategies.
A hospital fire safety class expires every 2-4 years, depending on whether you receive certification for an acute care setting, which is 4 years, or a skilled nursing setting which is valid for 2 years.
Hospital staff members will learn how to react to a fire emergency, how to help and move patients, how to use a fire extinguisher, and the different types of fires. You will also learn how to evacuate safely out of the building, and how to execute and practice a pre-fire plan.
In addition to your training, it is important to keep the 4 principals of Hospital Fire Safety in mind: Life Safety, Notification, Extinguish, Relocation / Evacuation
For quality and comprehensive Hospital Fire Safety training, check out the course from SureFire CPR.