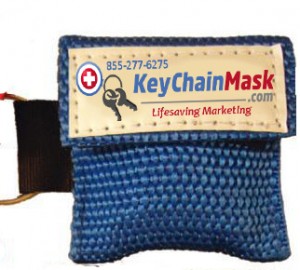 Looking for a fresh new way to market your business?  Tired of your business cards being thrown in the trash?  KeychainMask.com is putting a new spin on marketing.  Now you can advertise your business, protect your clients, and encourage them to help save the lives of others all at the same time.
With roots in Emergency Medicine and the Fire Service, KeychainMask.com is filling a need for business owners who are looking for a unique way to market themselves.  By providing CPR breathing barrier devices custom branded with your logo, KCM.com puts your business name in the pocket of all of your customers.  Key chain masks can be great giveaways or an additional revenue stream to sell to students.
With a complementary in-house design team, 7 different color key ring pouches, and free shipping on all orders, KeyChainMask.com is helping businesses across the nation save lives.  From CPR companies to hospitals; colleges to medical supply companies; KeyChainMask.com serves them all.
Interested in jumpstarting your marketing? Call 855-CPR-MASK or visit www.KeyChainMask.com!