The new American Heart Association BLS guidelines have been released!  What are the majord changes that we are going to see once all of the new teaching materials come out? Here is a basic overview of the most important updates!
New American Heart BLS Updates: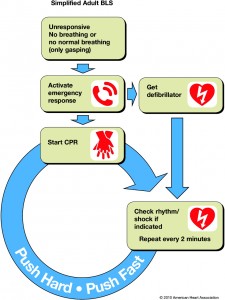 • Because cardiac arrest victims may present with a short period of seizure-like activity or agonal gasps that may confuse potential rescuers, dispatchers should be specifically trained to identify these presentations of cardiac arrest to improve cardiac arrest recognition.
•   Dispatchers should instruct untrained lay rescuers to provide Hands-Only CPR for adults with sudden cardiac arrest.
• Refinements have been made to recommendations for immediate recognition and activation of the emergency response system once the healthcare provider identifies the adult victim who is unresponsive with no breathing or no normal breathing (i.e., only gasping). The healthcare provider briefly checks for no breathing or no normal breathing (i.e., no breathing or only gasping) when the provider checks responsiveness. The provider then activates the emergency response system and retrieves the AED (or sends someone to do so). The healthcare provider should not spend more than 10 seconds checking for a pulse, and if a pulse is not definitely felt within 10 seconds, should begin CPR and use the AED when available.
• "Look, listen, and feel for breathing" has been removed from the algorithm.
• Increased emphasis has been placed on high-quality CPR (compressions of adequate rate and depth, allowing complete chest recoil between compressions, minimizing interruptions in compressions, and avoiding excessive ventilation).
• Use of cricoid pressure during ventilations is generally not recommended.
• Rescuers should initiate chest compressions before giving rescue breaths (C-A-B rather than A-B-C). Beginning CPR with 30 compressions rather than 2 ventilations leads to a shorter delay to first compression.
• Compression rate is modified to at least 100/min from approximately 100/min.
• Compression depth for adults has been slightly altered to at least 2 inches (about 5 cm) from the previous recommended range of about 1½ to 2 inches (4 to 5 cm).
• Continued emphasis has been placed on the need to reduce the time between the last compression and shock delivery and the time between shock delivery and resumption of compressions immediately after shock delivery.
• There is an increased focus on using a team approach during CPR.
Are you looking for Los Angeles BLS Classes? Or one in Orange County or San Diego? All of the new material will be released this coming March! For more information, call us at 888-277-3143!