In any situation involving potential contact with another person's blood or bodily fluids, exercising caution is paramount. This is because of the inherent risk posed by bloodborne pathogens, which are microorganisms capable of transmitting bloodborne diseases such as HIV and HBV. In this article, we will delve into what are the most common bloodborne pathogens and the significance of understanding their impact on our well-being.
You can't tell whether blood is infected or not just from looking at it. That's why it's important to always be safe when dealing with another person's blood or bodily fluids. As a healthcare worker, it's important to be aware of what bloodborne pathogens are, how they spread, and how you can protect yourself on the job.
What are bloodborne diseases?
Bloodborne pathogens are microorganisms in human blood and other bodily fluids that can spread infectious bloodborne diseases. These diseases are spread through contact with infected materials (such as needlesticks, etc.), through an open wound, mucous membranes, or damaged tissues.
Where are bloodborne pathogens found?
As the name suggests, bloodborne pathogens are found in the blood. They can also be present in bodily fluids such as semen or amniotic fluids.
3 Most Common Bloodborne Infections in the U.S.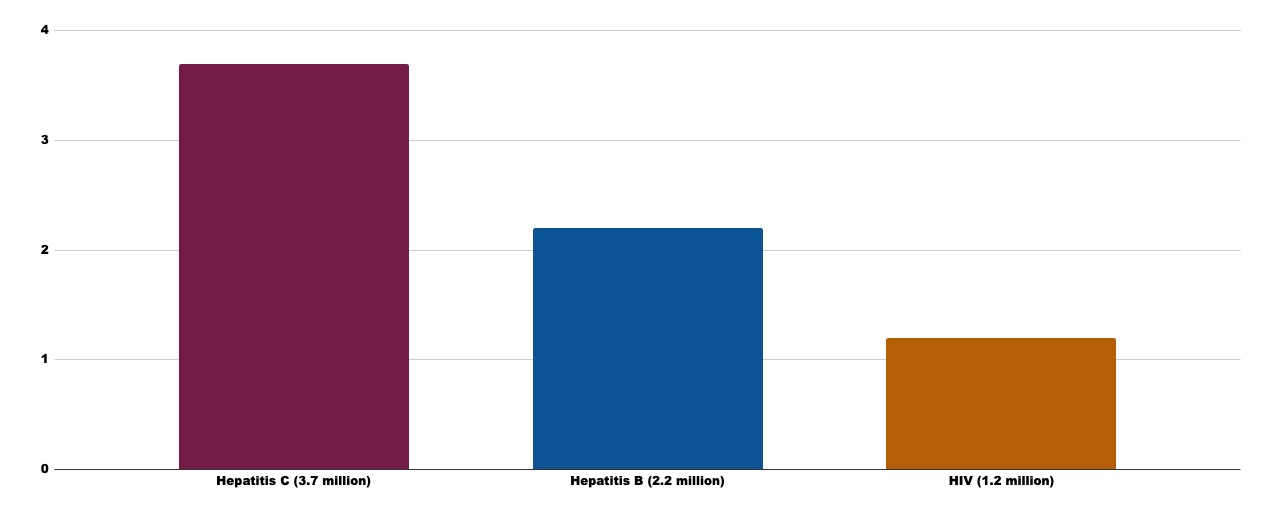 These are the three most common examples of bloodborne pathogens:
Hepatitis C (HCV) is an infection that affects the liver, spread by contact with an infected individual's blood. HCV can be a short-term illness for some, but for others, it can result in a long-term illness or even lead to life-threatening conditions including cirrhosis or liver cancer. If it is detected early, HCV is treatable. However, symptoms often do not become apparent until the infection has progressed into advanced liver disease. There is no vaccine for HCV, so the best way to avoid contracting it is by avoiding contact with infected blood.
Hepatitis B also impacts the liver, however unlike HCV, there is a vaccine for Hepatitis B. HBV is spread through the blood, semen, or bodily fluids of an infected individual. The virus does not always present symptoms and it can be a short-term illness when detected early. For others, the virus can turn into a chronic infection or cause other serious conditions like cirrhosis or liver cancer. HBV can be detected from symptoms like stomach pain, fatigue, and jaundice.
Human immunodeficiency virus (HIV)
HIV, or human immunodeficiency virus, is also one of the most common bloodborne pathogens. This virus targets the immune system, weakening a person's defenses against other illnesses. HIV is spread when infected blood and other bodily fluids come into contact with another person's mucous membrane or damaged tissue. When left untreated, it can turn into acquired immunodeficiency syndrome, as known as AIDS. There is currently no cure for HIV, but it can be treated and controlled with medical care.
How are bloodborne pathogens transmitted?
Bloodborne pathogens are transmitted by contact with infected blood or bodily fluids. When an uninfected person encounters these materials, the pathogens can spread viruses and infect them.
Protecting yourself against bloodborne diseases
Common Bloodborne Pathogens FAQ's