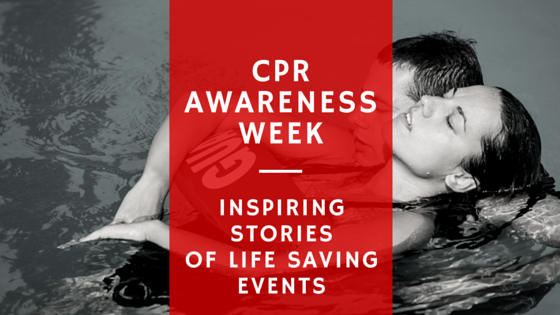 Have you ever wanted to be a superhero, i.e. someone who jumps into action to help save a victim's life in an emergency? Now, you can, thanks to
Pennsylvania teen performs CPR techniques on his father
Daniel Lozano, a 14-year-old from Hazelton, Pennsylvania, remained calm, cool and collected as he performed CPR on his father on Dec. 27, 2015.
According to the Citizens' Voice, Lozano responded to a scream from his parents' bedroom around 4:30 a.m.
Lozano's father, Francisco, had suffered sudden cardiac arrest (SCA), which occurs after the heart stops beating unexpectedly.
Daniel Lozano was able to maintain his composure and began performing CPR on his father. He cupped his hands, completed quick compressions and blew into his father's mouth until emergency professionals arrived with police.
"All I know is that it was something I had to do to save my dad," he said.
Perhaps just as impressive, Lozano acted without any formal CPR training.
"Pennsylvania is one of the few states that does not mandate that we teach our youth CPR and because this happens most of the time with no prior illness, we cannot wait until legislation is passed," noted Nainesh Patel, Director of Cardiac Arrest at Lehigh Valley Hospital-Cedar Crest. "Most of us have to teach others to be proactive, but the fact that Daniel just acted without being trained is amazing in itself."
Francisco Lozano has made a full recovery since the incident. Meanwhile, LVH-Cedar Crest has incorporated the story of Daniel Lozano's heroic efforts into its CPR training to highlight the true value of CPR to medical professionals.
CPR-certified Minnesota teen saves a neighbor's life
On Feb. 9, 2016, 16-year-old Nick Stien of Wilmar, Minnesota showed what it means to be a great neighbor and a CPR-certified individual.
When Stien encountered Doug Nelson, a 50-year-old neighbor who was unconscious and blue in the face, he began performing chest compressions until first responders arrived on scene.
"Just in the moment, it was just like, it doesn't matter who it is, you just gotta try and help him breathe to some extent," Stien told West Central Tribune.
Nelson was taken to Rice Hospital in Wilmar and suffered no speech delays or impairments due to the incident.
"The doctors were really surprised by how quickly he recovered," said Crystal Walker, Nelson's sister. "The neurologist told us, even when emergency medical services showed up, there was no pulse. But they said that there was enough pumping from the compressions that Nick did to save the brain."
Wilmar Police Chief Jim Felt added he believes Stien, who had become CPR certified about a year earlier, "did an exceptional job" by performing CPR in a high-pressure situation.
"When in doubt, do CPR. Just doing chest compressions alone will do wonders to help in a case like that," Felt pointed out.
Five-year-old girl helps her mother after seizure in a swimming pool
A 5-year-old girl in Corpus Christi, Texas recently went the extra mile to help her unconscious mother out of a swimming pool.
Kiii-TV 3 News reported Tracy Anderwald was underwater for 5 minutes when her 5-year-old daughter, Allison, jumped into the pool, helped her mother to the shallow end and ensured her mother's head stayed above water.
"I don't know what happened but I went into a seizure and whenever I did, I dropped to the bottom of the pool and went completely unconscious," Tracy Anderwald said.
Doctors pointed out they were unable to identify the cause of Anderwald's seizure. However, they noted that she would not have survived if she had remained underwater for even a minute longer.
Allison Anderwald had been swimming since she was just over 2 years old, and when her mom was in danger, she sprung into action without delay.
And now, Tracy Anderwald calls her daughter her "tiny hero" thanks to her life-saving efforts.
Learn life-saving CPR techniques with support from SureFire CPR
Ready to become a CPR super hero? The first week of June marks CPR Awareness Week, and you can commemorate this annual celebration of all things CPR by learning how to perform CPR at SureFire CPR.
With CPR training from SureFire CPR, you'll be able to learn life-saving techniques from a variety of highly trained, experienced medical professionals. As a result, you can discover what it takes to deliver emergency support in a victim's time of need from those who have performed CPR techniques successfully time and time again.
Our team consists of firefighters, emergency medical technicians (EMTs), paramedics and other expert medical personnel who recognize how to perform CPR techniques correctly. Therefore, you'll always be in good hands any time you enroll in one of our CPR training classes.
Also, our CPR courses ensure you'll be ready to conduct CPR in any life-threatening scenario that you encounter. That way, regardless of whether you need to help a parent who suffered SCA, an unconscious neighbor or a drowning victim, you'll possess the right skills to act quickly.
Take advantage of our broad array of CPR training courses to become CPR certified today! To learn more about our CPR training classes, please contact us at (888) 277-3143.