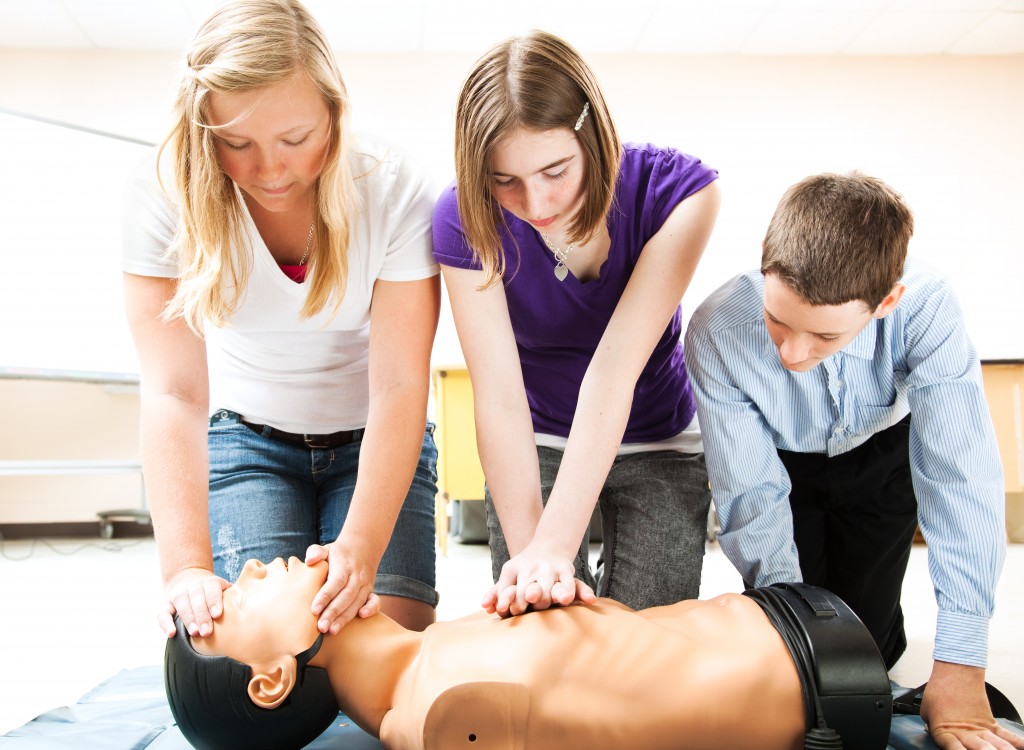 27 U.S. states now have made CPR training a high school graduation requirement. But
The number of states in which high schools require students to receive cardiopulmonary resuscitation (CPR) training to graduate is growing, a trend that appears likely to continue in the foreseeable future.
As of Dec. 2016, 36 U.S. states have made successful completion of a CPR training course a high school graduation requirement. But laws in some states with CPR training requirements have loopholes.
For example, Illinois requires high schools to offer CPR training, but students aren't required to complete a CPR training course. And in Indiana, high school students are required to take CPR training, but schools can get a waiver to opt out of the requirement. Or, in Maryland, CPR training is available, but it may not be required for high school students to graduate.
Many state officials are now forming the conversation regarding required CPR and first aid training, and asking the question, "Should CPR and first aid training be mandatory in schools?"
At SureFire CPR, we believe, yes, schools should make CPR training mandatory for students – and here are some of the key reasons why we believe this should be the case.
"..Bystanders trained in CPR are more likely to take action than those who are not trained," States The AHA Who Advocates For Requiring CPR Training
More and more adolescents are becoming victims of Sudden Cardiac Arrest, especially during sporting events.  If other students are trained to perform CPR, the SCA victim will have CPR performed on them much faster than having to wait for an adult who is CPR certified come and help.  In addition, an adolescent can be present at an emergency situation requiring CPR in a location outside of school. In order to improve community response to health-related emergencies such as cardiac arrest, increasing the population of trained CPR citizens needs to happen.
Immediate CPR From a Bystander, Young or Old, Saves The Most Lives, Since 8 Out of 10 Cardiac Arrests Happen Outside of The Hospital
According to the American Heart Association (AHA), at least 383,000 cardiac arrests happen every year, except only about 30% of those victims receive CPR. This is because most cases happen outside of the hospital, with 88% occurring at home when victims are not surrounded by trained healthcare personnel. This means CPR given from a bystander saves the most lives. If CPR and first aid training becomes mandatory in schools, our communities will be receiving thousands upon thousands of first responders equipped with the knowledge to perform CPR, and potentially save thousands of lives.
More Educated Community Members Means More People Are Likely to Continue Training Throughout Their Lives
Although many might combat our stance by stating that required in-school training would take away from our business, we disagree. More community members with CPR education means more people might be motivated to continue with training throughout their lives, whether their careers require it or not.
The installation of how powerful CPR is at saving lives in the minds of our young citizens might make more people feel compelled to take that knowledge and personal duty with them throughout every aspect of their lives. "We are steadfast in our commitment to creating a culture in which CPR training is just as fundamental to our educational system as geometry and history," said Nancy Brown, CEO of the AHA. We agree.
SureFire CPR believes that if all schools made CPR and first aid training mandatory, our communities would benefit from more bystanders who are confident to administer immediate CPR and could save thousands of lives. CPR training can take as little as 30 minutes during a gym class, and there's no reason why it shouldn't be included in a student's education.
Benefits of CPR Training from SureFire CPR 
When it comes to CPR training, there is no reason to settle for an inferior class. Instead, select SureFire CPR, and students of all ages and skill levels can reap the benefits of a rewarding CPR learning experience.
SureFire CPR offers an extensive CPR training program that focuses on the following topics:
How to perform adult, child and infant CPR. What will an individual need to do to assist a person who suffers sudden cardiac arrest (SCA)? Thanks to SureFire CPR, students can learn how to administer adult, child and infant CPR quickly and safely.
How to leverage an automated external defibrillator (AED). An AED is a vital medical device that is used to assist thousands of SCA victims annually. With SureFire CPR, individuals can learn how an AED works and discover how to utilize this device in SCA emergencies.
How to aid conscious and unconscious choking victims. Assisting a choking victim may prevent the loss of life. Meanwhile, SureFire CPR empowers students with essential skills so they can support conscious and unconscious choking victims of all ages.
There are many reasons why individuals should select SureFire CPR for CPR training, including:
Comprehensive Lessons: There are no CPR shortcuts, and much in the same vein, there are no shortcuts with CPR training. Fortunately, we provide comprehensive CPR classes that combine hands-on and classroom lessons, ensuring students can gain the CPR skills they need to succeed time and time again.
Expert Teachers: Our staff includes firefighters, nurses, paramedics, emergency medical technicians (EMTs) and other healthcare and medical personnel who work in the medical field on a day to day basis. These expert teachers are happy to share their CPR insights with students and respond to students' CPR concerns and questions.
Flexible Class Schedules: We offer CPR training programs that are designed to fit anyone's schedule. This means students should have no trouble enrolling in CPR classes that won't force them to revamp their everyday school or work schedules.
World-Class CPR Equipment: We leverage the latest and most effective CPR equipment. This ensures that students can practice CPR on manikins and leverage other first-rate equipment to learn the ins and outs of CPR.
Fast, Dependable Training: In most instances, it only takes a few hours to complete a CPR certification course. Plus, the lessons learned during a CPR class may last a lifetime.
Immediate CPR Certification: We make it easy to instantly obtain a CPR certification card upon successful completion of a CPR class. This card will remain active for up to two years.
If your school or state does not require CPR and first aid training, if your job requires certification or if you need to refresh your knowledge and wish to re-certify, check out the CPR classes from SureFire CPR – you'll be happy you did. Be prepared to save lives! Certify today!