SureFire CPR is your go-to resource in Orange, CA for comprehensive, quality training in CPR, First Aid, BLS, ACLS and PALS. You can open the door to an incredibly valuable, respected and rewarding careers in non-medical or medical fields with a top-level certification from our Orange location. Many of our graduates have gone on to work for school districts, the UC Irvine Medical Center, St. Joseph Hospital, and the Children's Hospital of Orange County.
CPR, ACLS, & PALS Training in Orange, CA
Orange County CPR, BLS, ACLS, and PALS Certification
Did You Know: Cardiac Arrests Can Happen To Anyone, At Any Time, And Once Someone Becomes Unconscious They Only Have Minutes To Be Revived?
Did You Also Know: Most Of The Cases That Need CPR Happen At Home And Will Most Likely Be Your Child, Spouse Or Parent?
Orange, California is a bustling metropolitan city that is growing by the day, now with over 135,000 people, and is the 6th largest in Orange County. The need for professionals in the medical field, such as EMT technicians, firefighters, lifeguards, nurses and doctors, is quickly growing. In order to fulfill the requirements for any of these medical related jobs and to provide services effectively, a BLS certification is required.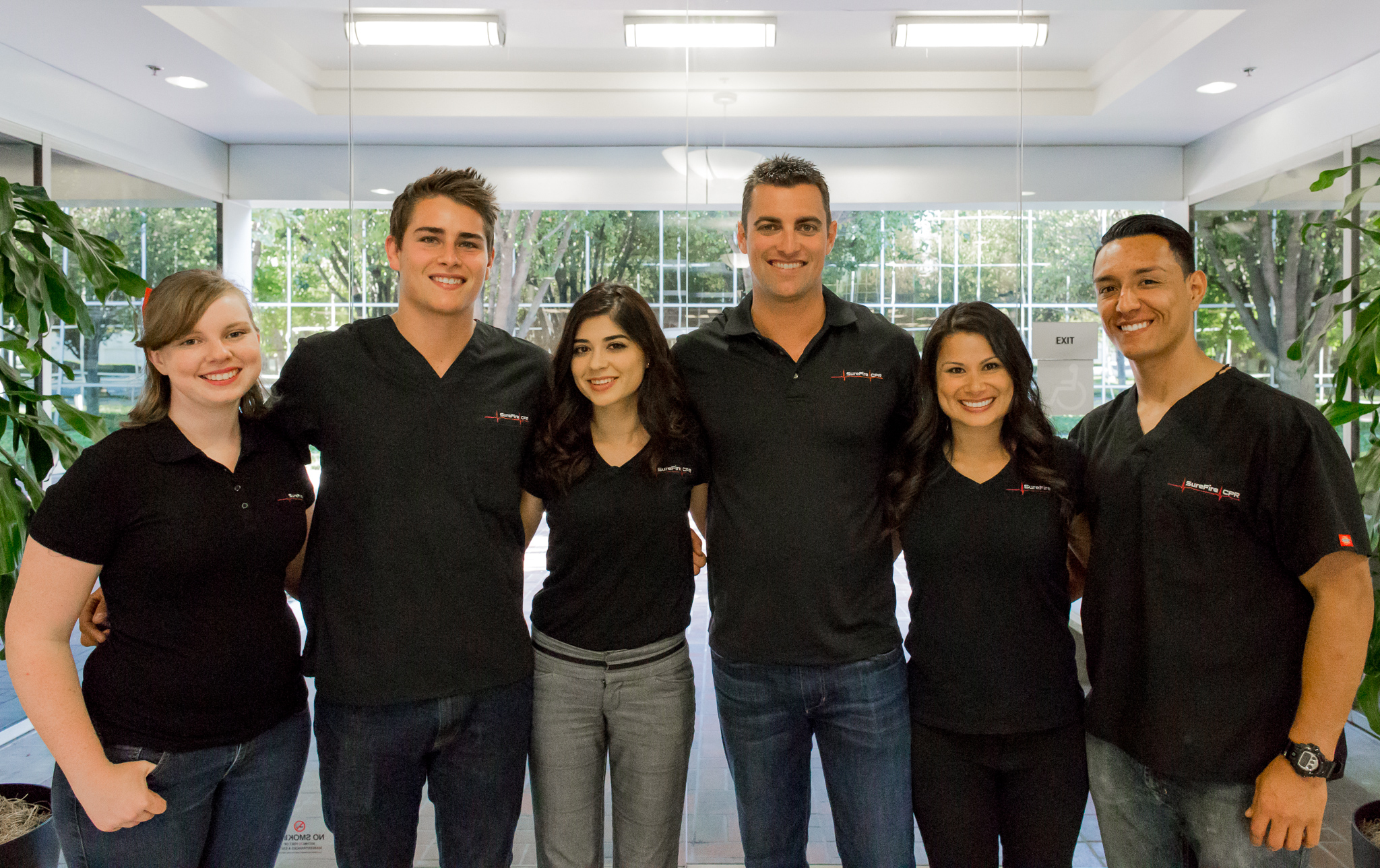 CPR and First Aid training is not only for medical professionals; Every day citizens such as parents, teachers and babysitters can benefit from training and potentially save someone's life.
What Classes Does SureFire CPR in Orange Offer?
We offer classes for both laypersons and medical professionals. We want to make sure that anyone who is interested in learning can find a class that is right for them. We offer CPR, First Aid, BLS, ECG & Pharmacology, ACLS, PALS, PEARS, NRP, MAB and Hospital Fire Safety.
What Exactly Is The Difference Between CPR, BLS, ACLS and PALS?
CPR means Cardiopulmonary Resuscitation, and is used to help an unconscious victim that may have suffered from a Cardiac Arrest, or from drowning or choking. The new methods for performing CPR include 30 chest compressions for every 2 breaths.
Who Should Become Certified In CPR?
Laypeople such as security guards, lifeguards, personal fitness trainers, daycare workers, and new parents are recommended to take the CPR Certification. The CPR Certification is designed for people who are not in the medical field.
Our CPR course will teach you adult, child and infant CPR; how to use an automated external defibrillator (AED), and how to help a conscious and unconscious choking person.
First Aid is the basic knowledge of how to tend to someone who has been injured by a fall, burn, or any other accident. It is beneficial for all members of the community to learn First Aid so that anyone can help in the case of an emergency.
You will learn in our First Aid course in Orange how to assess a patient, how to tend to muscle and bone injuries, how to help an asthma sufferer, how to tend to a bleeding wound, how to help a seizure victim, how to treat a fall, how to help a heat or cold weather related illness, and how to handle an allergic reaction.
Pediatric First Aid and CPR is a course designed to emphasize the most common first aid techniques for children and infants. This course focuses on the prevention aspect as well based on the most common incidents for infants and children. You will also learn how to perform CPR on an adult, child, and infant, how to use an AED, how to help a conscious and unconscious choking victim. 
BLS means Basic Life Support, and is the CPR course that is required for all medical professionals. There are 2 levels of CPR training and the BLS CPR course is designed for people who work in healthcare and may have medical equipment readily available to help in an emergency.
Who Is BLS For?
All medical professionals and healthcare workers need to know BLS, including doctors, dentists, nurses, medical assistants, and fire fighters, and lifeguards.
Our course will teach you how to perform CPR on an adult, child and infant, how to help a choking individual, how to use an AED Defibrillator on a patient, as well as how to use a bag mask, valve and other equipment on an unconscious victim.
ACLS means Advanced Cardiovascular Life Support, and is used to help a victim suffering from a Cardiac Arrest and has become unresponsive.
Who Should Know ACLS?
Many of the medical professions that work with adults in Orange require employees to have ACLS certification. These positions include: nurses, doctors, paramedics, respiratory therapists and many more.
Our course will help all healthcare professionals be able to recognize the signs of Cardiac Arrest, manage the victim's airway, review BLS, help a stroke victim, and how to lead a resuscitation team.
PALS means Pediatric Advanced Life Support, and is designed to help critically ill children and infants. These pediatric emergencies may include choking, drowning, burning, or other causes.
Who Is PALS For?
Doctors, nurses, paramedics, EMT's along with other medical professionals that work with children and infants.
The SureFire CPR Orange course will teach how to manage a pediatric respiratory emergency, how to help a child who can't breathe properly, a review of BLS, and will provide realistic pediatric emergency situations including how to react and what procedure to perform.
Hospital Fire Safety can help medical professionals that work in Los Angeles to understand and be prepared for what needs to be done in the case of a fire in the hospital.
Understanding CPR, First Aid, BLS, ACLS, and PALS are all important to know based on what which one pertains to your life and career. Everyone in your Orange community should take the time to educate themselves on these life-saving practices. You have the power to make your home, work, and community a better, safer place.
Contact the SureFireCPR office in Orange, CA today at (949) 630-6679 to save your spot in one of our training courses and get certified!
Please take a look at the driving directions below and if you need extra help finding our office, we are located less than 1 mile from Angel Stadium right off the 57 freeway.