Laguna Niguel Residents Attend CPR Training
More than 50 turn out to learn the lifesaving technique on Sunday and become certified.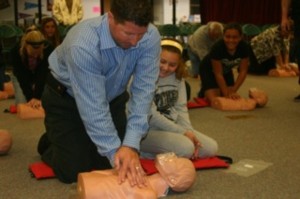 Cardiopulmonary resuscitation—also known as CPR—is one of those things you always say you're going to do but somehow never get around to it.
However, more than 50 people decided to jump onboard to learn the lifesaving technique Sunday.
CPR is a combination of rescue breathing and chest compressions delivered to victims thought to be in cardiac arrest. When cardiac arrest occurs, the heart stops pumping blood.  CPR can support a small amount of blood flow to the heart and brain to buy time until normal heart function is restored, according to the American Heart Association.
Chris and Kathy Zoch of First Team Realty and the Canyon Vista PTA sponsored a CPR and Automated External Defibrilators (AED) training and certification at Canyon Vista Elementary in Aliso Viejo.
"Basic lifesaving is something that should be taught at a young age," said Chris Zoch. "You never know when know when the training will make the difference between life and death for a friend or loved one."
"Everyone should be CPR-certified," said Laguna Niguel resident Mary Procyk, a Boy Scout leader who attended the class. "I have done this before, but these instructors are the best I have seen. They were very hands-on and related well with the kids."
The training and certification was taught by SureFire CPR, an official training center for the American Heart Association and the American Safety and Health Institute.
"Moments matter in a critical situation," said Zack Zarrilli, owner and instructor for SureFire CPR. "I was glad to see such a large turnout. Everyone here learned the new and improved lifesaving techniques, as well as AED instruction."
"It was great to see families learning together," said Kathy Zoch.
The above article was taken from the Laguna Niguel Patch!