SureFire CPR offers the CPR certification needed for fitness trainers, gyms, fitness centers, and healthcare clubs. The State of California requires all gym employees and fitness instructors to be CPR certified. SureFire CPR provides the CPR certification needed, as well as AED equipment and training to abide by California's requirements and to respond to emergency situations. With our comprehensive CPR training for gyms and healthcare centers, you can rest assured that your trainers and staff will properly respond to emergency situations that occur at your facility.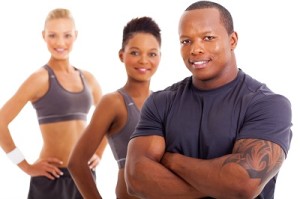 CPR Training for Gym Employees
In 2007, California required all health clubs and studios to have an Automated External Defibrillator (AED) program in place to provide proper emergency response to groups or individuals who are performing physical exercise. According to the California Health and Safety Code, Section 104113, one person per AED unit must be certified for AED and CPR for up to 5 AED devices.
CPR training for gym employees must include the proper use, maintenance, and inspection of the AED, as well as CPR to provide emergency response. Employees must be able to properly assess patients to provide the appropriate CPR skills. SureFire CPR meets all of these requirements through our CPR certification for fitness trainers.
CPR Certification for Fitness Instructors
In addition to meeting California's requirements for CPR certifications, fitness instructors must be able to respond during emergencies. Injuries and emergencies are likely to happen in fitness centers and health clubs, so it's vital trainers are able to respond accordingly.
With SureFire CPR, trainers will benefit from small comfortable class sizes led by highly trained and experienced instructors. Students will learn the hands-on skills needed to respond to cardiac and respiratory emergencies, as well as the use of an AED. Our comprehensive courses cover everything that's needed to respond to a variety of emergency situations when working in fitness centers. Offering multiple class schedules and online options, CPR training for gyms can be completed quickly and effectively to become certified.
Our CPR certification for fitness trainers meet the guidelines and requirements needed to achieve a CPR certification that will remain valid for 2 years. After 2 years, a renewal will be needed to remain certified. This will ensure your facility has a proper emergency safety plan in place and trained professionals at all times.
Promote the overall safety of your fitness center or health club by providing CPR training for your fitness instructors with SureFire CPR. Call us today to arrange CPR training for your fitness facility.
FAQs ABOUT CPR TRAINING FOR PERSONAL TRAINERS