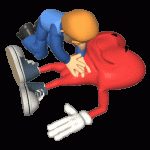 Which CPR Certification is Right For You?
CPR Certification.  It's time to take a CPR and First Aid class so you start to search the web.  Tons of choices come up: CPR, BLS, AED, CPR for the Professional Rescuer, etc.  Which one do you need?  Let's go over each individually:
CPR and AED
CPR and AED is the most basic CPR class available.  This will cover Adult, Child, and Infant CPR, the AED (Automated External Defibrillator), and conscious and unconscious choking.  This class is perfect for parents, teachers, personal trainers, security guards, babysitters, etc. It is important to make sure that you get a 2 year CPR certification card with this course.  Make sure that it is either taught through the American Heart Association (AHA) or the American Safety and Health Institute (ASHI).
BLS (Basic Life Support for the Healthcare Provider)
BLS for the Healthcare Provider CPR is an American Heart Association course covering all of the above, along with 2 person CPR, and the bag-valve-mask. It is the required course for medical personnel, firefighters, paramedics, doctors, dentists, and nurses.  If you are going to be working in a hospital, make sure that you take this course.  Many hospitals will only accept certification through the AHA.
CPR for the Professional Rescuer
CPR for the Professional Rescuer is similar to the BLS course, but it is taught through the American Red Cross.  It is also a 2 year certification, however it is not accepted as readily as the BLS class.  If you have the choice, I would not recommend Red Cross CPR Classes!
Corporate / Group Training
Do you need Group CPR Training? Some CPR training companies will come to your business and train your employees onsite! Don't forget to ask!
Still not sure which class you need? Let us help you! Ask us below!