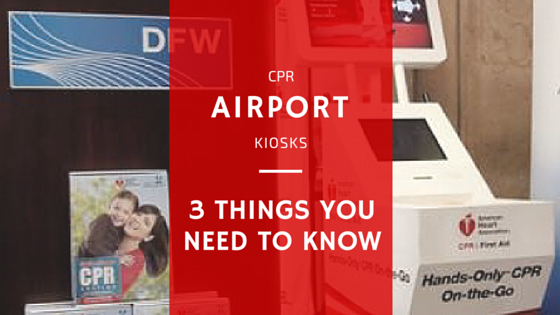 Want to learn a life-saving skill while you wait for your flight to depart? Check out cardiopulmonary resuscitation (CPR) airport kiosks that offer CPR training at your convenience.
The American Heart Association (AHA) and American Airlines Occupational Heath Services recently installed a hands-only CPR kiosk at Dallas-Fort Worth (DFW) Airport. This kiosk enables travelers to learn and practice CPR on a manikin while waiting for flights, according to Design Signage Connection.
In addition, the kiosk features a video program that provides the steps of hands-only CPR, a CPR practice session and a 30-second CPR test. And at the end of a training session, the kiosk even provides feedback about the depth and rate of a user's compressions and proper hand placement.
So what did the kiosk mean for travelers? It delivered immediate results – in fact, one traveler even performed hands-only CPR on another traveler thanks to training he received from the CPR training kiosk, EMS1 reported.
"Every American should know the simple steps of hands-only CPR," AHA spokesperson Ahamed Idris, M.D., said in a prepared statement. "We hope the hands-only CPR kiosk at DFW Airport really takes off – we'd love to see other high-traffic places do the same so more people can learn this lifesaving skill."
It may be only a matter of time before CPR kiosks become commonplace in airports worldwide – perhaps for good reason. These kiosks offer substantial value for travelers of all ages for a number of reasons, including:
You can reap the benefits of a life-saving skill.

The AHA reports 70 percent of Americans may feel helpless to act during a cardiac emergency because they either do not know how to administer CPR or their training has significantly lapsed. The AHA also notes 88 percent of cardiac arrests occur at home, which means these incidents may affect someone you love at any time.
Thanks to airport CPR kiosks, however, anyone can learn hands-only CPR at any time. And by doing so, anyone can find out how to perform hands-only CPR to help save a life, too.
"The more lifesavers we have at the airport, the better off we all are. It takes just a few minutes, and you never know when or where you might need to save a life," said Jeral Ahtone, M.D., area medical director with American Airlines Occupational Health Services.
You can pass the time before your flight.

Want to pass the time during an airport layover? With CPR training at an airport kiosk, you can make the most of your time at the airport.
A CPR airport kiosk offers a hands-on experience that makes it valuable learning tool. And thus far, the Dallas airport's CPR kiosk has delivered substantial return on investment (ROI), particularly for travelers who are looking to pass the time.
To date, at least 17,000 people have used the CPR kiosk at the Dallas airport. And with the creation of seven additional airport CPR training kiosks as part of a grant from the Anthem Foundation, more travelers soon could reap the benefits of hands-only CPR training at airports nationwide.
You can help reduce the risk of unnecessary deaths.

The AHA points out nearly 326,000 out-of-hospital sudden cardiac arrests (SCAs) occur annually. But those who devote the necessary time and resources to become CPR certified can help limit the number of unnecessary SCA deaths.
Airport CPR kiosk training introduces travelers to hands-only CPR, and ultimately, may lead more people to become CPR certified as well.
CPR certification empowers individuals to save lives. And with support from the experienced CPR professionals at SureFire CPR, anyone can learn how to perform quickly and efficiently.
When it comes to CPR certification, there may be no better choice than SureFire CPR. At SureFire CPR, expert instructors provide real-world insights as well as a learning experience that's focused on students. These instructors also understand you need to gain the skills and confidence to act in a crisis, and as such, will provide in-depth tutorials to ensure you feel at ease with the simple steps needed to save someone's life.
To learn more about SureFire CPR's courses, please visit our website or contact us at (888) 277-3143.