PALS – Pediatric Advanced Life Support – Initial
(2 Year AHA Certification) – Same Day Certification Card!
Recommended for any healthcare professionals and medical personnel who may respond to pediatric emergencies.
The PALS Class covers:
The systematic approach to Pediatric Assessment
Management of pediatric respiratory emergencies
Vascular access (Including intraosseous training)
Airway Management
PALS Pharmacology
Basic Life Support (BLS) review
Numerous pediatric case studies and simulations
How to be both a leader and a team member in a pediatric resuscitation team
CE's available for EMS and Board of Nursing! For CME's, please take a PALS online with skills check.
**This class is for those who have never taken PALS before or have an expired PALS certification card.
Class Running Time: Approximately 10 Hours
Click on a class below to enroll
PALS is short for Pediatric Advanced Life Support. PALS involves training that is specific to caring for infants and children in emergency medical situations, both in hospital and out, as well as while in transit from one care facility to another. Most professional medical care providers that work with children must have a PALS certification.
SureFire CPR has provided PALS certification training to students for many years. We possess extensive PALS expertise and are happy to share our PALS knowledge with healthcare and medical personnel.
What Is an American Heart Association (AHA) PALS Certification?
Just like many other CPR and life-saving training classes, a PALS certification should always be approved by the American Heart Association (AHA). While other training centers and online courses can give you some of the basic knowledge included in a PALS certification, the American Heart Association PALS course is the one that is always accepted by any employer.
A PALS certification that is approved by the AHA, like the ones offered at Sure Fire CPR, will give you credibility at any job you acquire in the medical field. As Orange County is home to the largest medical community in California, including several pediatric hospitals, a PALS certification will make you stand out among other individuals and give you the skills and techniques necessary to save a child's life that might have otherwise been lost.
How Long Does a PALS Certification Last?
As with most medical certifications, a PALS certification lasts two years. Refresher courses are available once you've received your initial certification so that you can keep your PALS knowledge at the front of your brain should a pediatric medical emergency arise. When your PALS certification expires, you can obtain a renewal from Sure Fire CPR. We also offer initial certification courses in the case that your certification lapsed before you were able to renew it.
Get PALS Certification in Orange County
In California, one of the biggest medical communities is found in Orange County. This area is home to some of the finest medical and healthcare facilities, creating a great need for trained professionals who are skilled in saving lives and have PALS certification. In these professions, the proper ongoing education is essential for being able to provide patients with the best of care. This is especially true for healthcare workers who provide services for seriously ill infants and children.
Through PALS classes in Orange County, these people are able to respond to a variety of emergencies that can place the lives of children in danger. These staff members are exposed to many different medical emergencies and must be prepared to face any situation that would require them to respond and effectively provide life-saving treatments for cardiac issues and respiratory conditions.
Completing a PALS certification course gives workers access to the instruction that they need to know, to be able to properly assess pediatric emergencies. Through a review in CPR, those who work with young patients are given renewed skill information so that they can confidently care for all types of pediatric distress scenarios. Since this training is geared specifically for caring for infants and children, those who work in children's hospitals and clinics are required to obtain certification.
What Types of Professions are Required to Have PALS Training in Orange County?
There are a variety of professions that require this certification. This is especially true for those who exclusively treat infants and children.
Doctors, nurses, and paramedics are required to take PALS certification in Orange County, as they come into contact with many pediatric emergencies each day. In addition, those working in Emergency Response, Pediatric Intensive Care, and Critical Care must have these skills to appropriately care for their patients.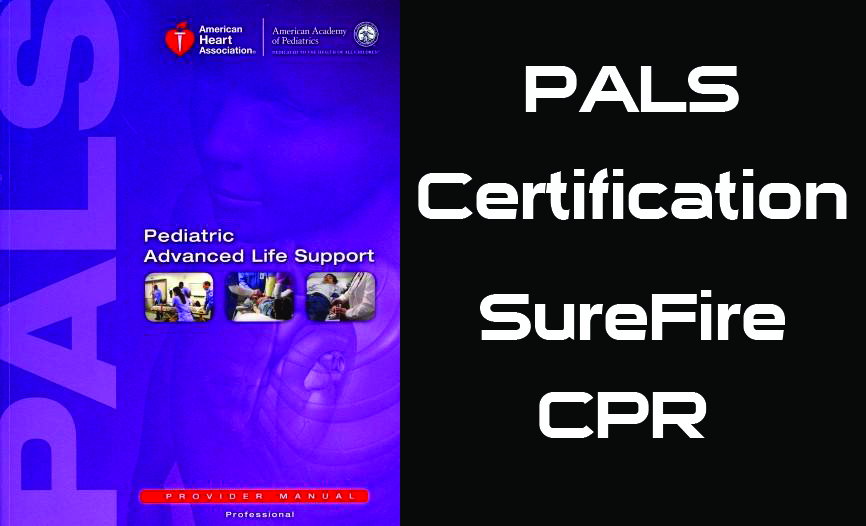 What Businesses Look for PALS Certification in Orange County?
Home to St. Jude Medical Center, Orange County offers a huge treatment center for pediatric cancer patients. The SureFire CPR PALS class in Orange County gives healthcare workers the knowledge and skills needed to provide these special children with life-saving procedures, even in the most trying of situations.
Along with St. Jude Medical Center, The Children's Hospital of Orange County also cares exclusively for pediatric patients. This massive healthcare facility treats hundreds of infants and children each day, giving rise to an incredible need for highly knowledgeable staff. Through this training, the medical community is able to achieve much more than just the basic skills to retain their positions. Even in the most intense of emergency situations, having a good understanding of these skills can prepare workers to respond correctly and with confidence.
The Benefits of PALS Certification in Orange County
Those who have been through training are able to be prepared when the worst situations strike. Through a PALS course in Orange County, healthcare workers can rest assured that they are receiving training that meets the AHA guidelines. It is also important to note, many workers are also interested in advanced cardiac life support advanced cardiac life support (ACLS) certification.
In the class, students are trained through simulated pediatric emergency situations. These life-like simulations provide an unmatched training environment that gives individuals the full confidence of knowing that they are prepared for any pediatric distress scenario.
Once the training has been completed, you will receive your certification. This will meet the requirements of your employer and shows that you are skilled in this information. The PALS certification lasts for two years and then must be renewed through re-certification classes. For those caring for children, this is a training that is essential.
Why Should You Enroll in PALS Training?
Healthcare and medical personnel frequently enroll in PALS training for many reasons, including:
Career Growth: With PALS certification, healthcare and medical professionals can obtain life-saving skills and pursue career advancement opportunities.
Job Requirements: In many instances, healthcare and medical organizations will require personnel who work with severely ill children and infants to become PALS-certified.
SureFire CPR is a leading provider of PALS training in Orange County. Our staff goes the extra mile to provide students with an unprecedented learning experience that combines hands-on and classroom lessons. By doing so, we ensure our medical and healthcare personnel can provide vital assistance in pediatric emergencies.
Sign Up for PALS Training from SureFire CPR
SureFire CPR represents a top choice for PALS training in Orange County, and for good reason. Our PALS classes offer many benefits, including:
Outstanding Teachers: Our PALS classes are taught by healthcare and medical personnel who can provide real world insights into pediatric emergencies.
Flexible Class Schedules: We provide PALS classes at various times during the week. Therefore, you won't have to revamp your everyday schedule to enroll in a PALS class.
Superior Learning Environment: We encourage students to ask questions and participate in class discussions, ensuring students can get the support they need to become PALS experts.
Ultimately, SureFire CPR helps healthcare and medical personnel obtain PALS certification without delay. We provide comprehensive PALS instruction and are committed to teaching students how to administer quick, effective life-saving assistance in pediatric emergencies.
To enroll in one of our PALS classes, please contact us today at (888) 277-3143.