CPR, ACLS, & PALS Training in Laguna Hills, CA
Laguna Hills CPR, First Aid, BLS, ACLS, and PALS, Classes and Certification
Laguna Hills is a bustling city with a population that is continuing to grow. When more adults are moving to a region and more families are being made, the need for top-quality first responders and medical professionals grows greater as well. Such professionals include firefighters, nurses, EMT technicians, doctors, and police.
One thing all of these professions have in common is the need to understand and be able to perform CPR to victims in need.
The truth is, accidents happen everywhere, and they are not partial to age, the weather, or if someone is celebrating a birthday or other special occasion. You never know when someone may become unconscious and need to be revived with one of these powerful resuscitation methods.
That is where our passion lies: We are SureFire CPR in Laguna Hills and we provide CPR, First Aid training, BLS, ACLS and PALS certification courses for all medical/healthcare professionals in the area. Laguna Hill's largest medical facility, Saddleback Memorial Medical Center, requires all its employees and applicants to obtain these certifications.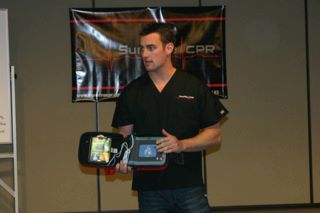 What Courses Does SureFire CPR in Laguna Hills Offer?
We provide CPR, First aid, BLS, ACLS, and PALS certification courses.
CPR, Cardiopulmonary Resuscitation, is used when someone becomes unconscious and unresponsive. This means they are not breathing, blinking, coughing or speaking. The latest guidelines for performing CPR is 30 chest compressions per two breaths, to try and bring oxygen to the victim's brain and continue to pump blood through their body .
Who Should Learn CPR? CPR is useful for everyone in the Laguna Hills area. Professions where CPR certification is often required include police officers, lifeguards, teachers, healthcare workers, bus drivers, gym staff, and security guards. However, the more people in a community that know how to perform CPR properly, the safer the community as a whole will be.
Our CPR course in Laguna Hills will teach you how to perform CPR on adults, infants and children, how to use an AED Defibrillator, and how to help a conscious and unconscious choking victim.
First Aid is the basic knowledge of how to tend to someone who has been injured, either by scraping, falling, or minor burning, or, whether they require emergency CPR. This basic human knowledge should be learned by all citizens in the community, whether they work in a medical field or not. This helps make the community safer overall.
You will learn in our Laguna Hill's course how to assess a patient, help an asthma sufferer, how to tend to muscle and bone injuries, how to help a seizure victim, tend to a bleeding wound, treat a fall, help a heat or cold weather related illness, and how to handle an allergic reaction.
BLS, Basic Life Support, is the CPR course that is required for medical professionals. There are many similarities to the layperson CPR class, however, it covers additional procedures on how to perform CPR with medical equipment that is readily available during an emergency as well as having more than one rescuer.
Who Is BLS For? All medical professionals and first responders are required to have their BLS certification. This includes nurses, doctors, fire fighters, dentists, EMTs and other medical personnel.
The BLS course will teach you adult, child, and infant CPR, how to use an AED Defibrillator, how to help a conscious and unconscious choking person, how to respond to a Cardiopulmonary emergency, and how to use supplies like a breathing mask, valve, and others.
PALS, Pediatric Advanced Life Support, is designed to help critically ill children and infants, such as those who have been injured, unconscious, drowned, choking, or experienced a home fire.
Who is PALS For? All medical professionals and first responders in Laguna Hills should learn PALS; Doctors, nurses, and paramedics.
Our course will help you properly react to a pediatric respiratory, shock or cardiac emergency, how to help a non-breathing child, how to give BLS, and practice using realistic emergency situations.
ACLS, Advanced Cardiac Life Support, is used when someone has suffered from Cardiac Arrest and is unresponsive.
Who Should Learn ACLS? All medical and healthcare professionals that may come in contact with someone having a Cardiac Arrest should become ACLS certified.
Our ACLS course will teach you how to recognize and detect Cardiac Arrest, airway management, pharmacology used in ACLS, a review of BLS, management of acute coronary syndromes and stroke, and how to be a both a leader and team member in a resuscitation team.
When people begin to move and settle into communities, the risk of accidents and emergencies rises as well. The courses taught through SureFire CPR in Laguna Hills all have the potential to save the life of a member of your community, and also provide you with the opportunity to join the rewarding, ever-growing medical industry.
Contact SureFire CPR today in Laguna Hills to sign up for one of our classes and come one step closer to becoming a community hero!
We are conveniently located in the downtown area, located less than one minute off of the 5 Freeway at La Paz.