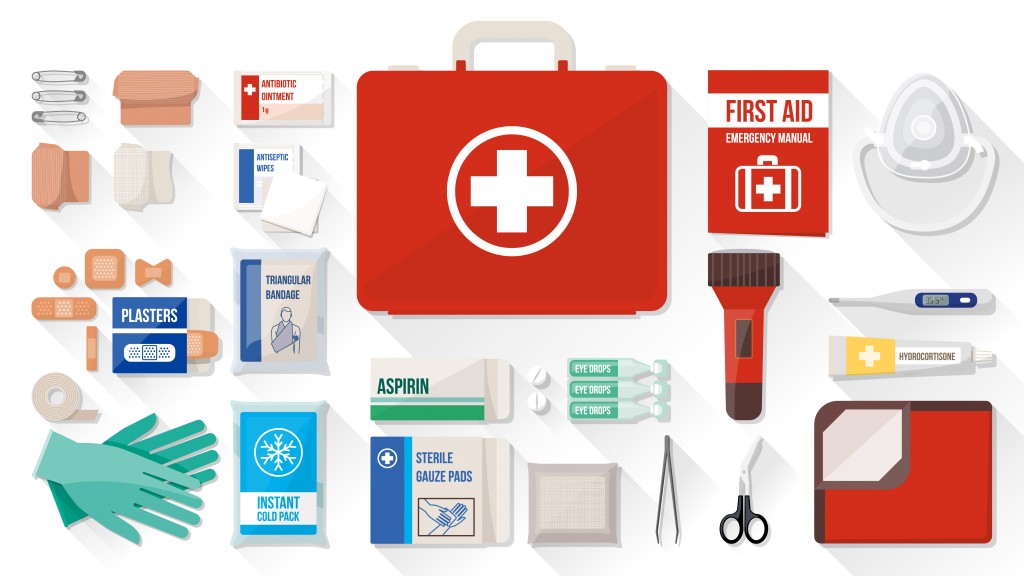 Having a well-stocked and ready-to-use first aid kit is one of the best ways you can prepare for emergencies. Even for the best drivers, emergencies can sometimes in or near a car, which is why it's important to carry a kit filled with essential first aid items in your car.  You may be at a soccer game when your child suffers a mild sports injury; your family may experience a car accident, or you may need to hunker down in your vehicle to wade out a severe snow storm. You can find first aid kits for your car already packaged, but it will probably cost you less to pack one yourself, and this way, you can customize it to meet your family's specific needs.
In this guide, we cover what to put in a first aid kit that you keep in your car. The next time you get a free moment at home, begin thinking about how you will organize your car's first aid kit, and keep these essential items in mind:
1. FIND OR PURCHASE A BOX TO HOLD YOUR FIRST AID ITEMS.
Look for a container rather than a bag since bags can easily get squished when inside your car. When buying your first aid container box, look for one that comes with transparent inner compartments so you can have a clear view of the items inside. Also, look for a light-weight tackle box with handles, and never put a padlock on your kit because you will need to get to it quickly in an emergency.
2. FILL YOUR CONTAINER WITH THE ESSENTIAL FIRST AID ITEMS.
Your first aid kit doesn't have to take up a lot of space, but it should be stocked with everything you need to address an emergency. Here is a list of all the  essential first aid items  you should always keep well-stocked in your First Aid car kit:
Adhesive Band-Aids for covering cuts
Gauze pads for treating wounds
Safety pins for closing bandages
Adhesive tape
Antibiotic ointment
Antiseptic and hydrocortisone cream for skin inflammation and rashes
Antihistamine for allergic reactions
Antiseptic wipes to sanitize your hands
Aspirin, Ibuprofen, or other pain relieving medication
Aloe Vera to treat mild burns
Sunscreen
Insect bite relief pads
Cotton balls
Cotton swabs
Vaseline
A digital thermometer
Tweezers
Curved scissors—the medical kind that doesn't have a pointy edge, and is used for cutting clothing away from an injury
A needle
Hand sanitizer
Saline solution for eye washing or cleaning wounds
3. INCLUDE CHILD AND INFANT VERSIONS OF ANY OF THE ABOVE ITEMS.
If you have young children in your family, include child and infant pain relievers, any prescribed medication, Benadryl spray, child & infant sunscreen, small bandages, baby wipes, and a syringe or medicine cup for administering medications.
4. DON'T FORGET ITEMS FOR SERIOUS INJURIES AND EMERGENCIES.
These are the items that you may need to use in acute medical emergencies like cardiac arrest, choking, drowning, severe allergic reactions, and car accidents.
Hot and cold packs—the kind that you just have to snap to activate the heating or cooling sensation
Synthetic gloves if you're dealing with serious wounds
A CPR mask for mouth-to-mouth resuscitation
Anti-diarrhea medication
An Epi-Pen for severe allergic reactions
Plastic bags for disposing contaminated items
5. INCLUDE AN EASY-TO-FOLLOW FIRST AID MANUAL YOU CAN USE TO WALK YOU THROUGH EMERGENCIES.
With all the CPR and First Aid training in the world, you never know what you will recall and what will go "out the window" during an emergency. Look into taking a CPR and First Aid certification class or search research paper topics to receive hands-on training. Pro tip: include a written guide of the lessons you learned in the class inside your First Aid kit so you remember what to do in the middle of an emergency.
ADDITIONAL ITEMS YOU MAY WANT TO INCLUDE IF YOU HAVE ROOM ARE:
Personal items like baby products, allergy, and asthma prescriptions, and anti-nausea medication.
An extra blanket, or more depending on the size of your family
A light stick or a flashlight with extra batteries
A prepaid emergency mobile phone
Hats and gloves
Extra eye glasses
Diapers, bottles, or sippy cups
A sling
Non-perishable food like granola bars
Water
Tips for Using Your First Aid Kit
Having a first aid kit in your car is great steps towards safety, but it will be ineffective in the event of an emergency if you don't know how to use it. Here are a few tips you can follow to use essential first aid items the right way.
Always disinfect. Open wounds and skin-to-skin contact can lead to infections and the spread of illness. If you have them time, always try to disinfect your hands and the area of injury before bandaging a wound.
Stop the bleeding. Apply pressure to any open wound to stop the bleeding before wrapping it up or applying a bandage.
Immobilize the injured area. For trauma and broken bones, make sure that the injured area is immobilized without excess weight or pressure on top of it. Unless you're a doctor, don't try to reset or stint the bone yourself.
Perform CPR for nonresponsive persons who aren't breathing. If a person isn't breathing and is unresponsive, perform CPR. You can learn how in our comprehensive guide.
When in doubt, call 911. For individuals in need of CPR, call 911 as soon as you determine that CPR is needed. For those with serious injuries — or for anyone you believe needs extra treatment — call 911. When in doubt, always call.
Remember to restock your first aid kit. After using some of your essential first aid items to address any emergencies, it's important to replace those items ASAP. The last thing you want is another accident or emergency to strike while you have an empty first aid kit.
Take a first aid or CPR course. The best way to learn how to use your first aid kit in the event of any emergency is to take a Basic First Aid or CPR certification course that teaches you essential lifesaving skills.
Put Together Your Car's First Aid Kit and Take the Next Step With SureFire CPR
You've searched "what to put in emergency kit for car," and you might be a little lost with all of the options out there. We've researched and found a few solutions to fit any budget! (Full disclosure, these are affiliate links, and also products we like ourselves!)
First Aid Only FAO-442 All-Purpose First Aid Kit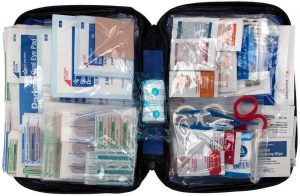 First Aid Kit Hard Red Case 326 Pieces Exceeds OSHA and ANSI Guidelines – Intermediate Option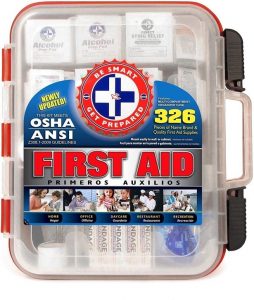 EVERLIT 250 Pieces Survival First Aid Kit – Deluxe Option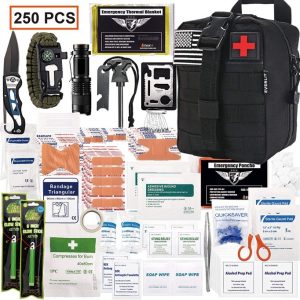 You've searched "what to put in emergency kit for car," and you've found your solution. Now that you've got some great options for your car's first aid kit, it's time to make sure you know exactly how to use it. You can further prepare yourself by completing a CPR and Basic First Aid certification class from our award-winning team here at SureFire CPR. Look into our classes offered all over Southern California and choose a date and time that fits into your schedule.