First Aid for Construction Workers
Construction first aid courses remain vital for construction workers, as these employees are exposed to a wide range of hazards day after day. From accidents with heavy equipment to emergencies caused by overhead loads, the stresses of construction can increase the chances of one or more of your employees suffering a medical emergency.
Fortunately, SureFire CPR offers a vast array of construction first aid and cardiopulmonary resuscitation (CPR) training courses, ensuring your firm is ready to handle emergencies.
SureFire CPR serves as a top choice for first aid and CPR training for a number of reasons:
Flexible – We'll conduct CPR classes for your construction workers at any of our three office, and we even offer on-site classes for any particular construction site. We can hold classes at any time of day that works with your work schedule.
Affordable – With our value-added pricing program, SureFire CPR offers the best construction first aid and CPR training at a low cost.
Capable – SureFire CPR's team of instructors includes firefighters, emergency medical technicians (EMTs), nurses and other trained medical professionals who have assisted with construction site emergencies.
Convenience – With same-day certification cards and efficient instruction, your construction crew can acquire essential basic first aid training in no time.
Customization – Our training can be customized for any schedule, and we work with small, medium-size and large construction companies, too.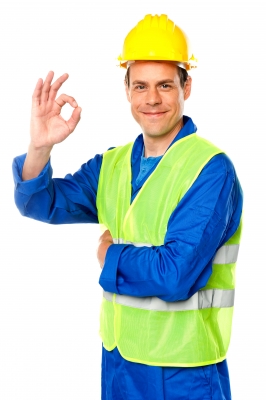 Why should you choose SureFire CPR for construction first aid courses?
SureFire CPR's basic first aid training for construction purposes covers the following areas:
Patient assessment
Trauma (bleeding wounds)
Muscle and bone Injuries
Asthma
Seizures
Allergic reactions
Heat and cold emergencies
At SureFire CPR, we will work with you to develop basic first aid training tutorials for your construction crew. Whether it's establishing a 24/7 emergency response team or providing first aid construction training to one or two workers (shift supervisors, foremen, etc.), our basic first aid construction classes are designed to fit your schedule and bottom line.
In addition, SureFire CPR devotes the necessary time and resources to ensure you can make the most of your first aid training. We recognize that basic first aid skills can be learned in a relatively short amount of time, so our training is particularly convenient for construction firms with busy schedules. Also, we realize that training takes workers away from their regular duties, so our basic first aid certification for construction purposes are designed for optimum knowledge acquisition without the need for days of training.
Why should you choose SureFire CPR for construction CPR training?
CPR training for construction may involve individual members, such as a supervisor, foreman or shift worker, or an entire group. And whatever your CPR training construction plans are, SureFire CPR can help certify your employees.
Having a dependable CPR team readily available remains essential for construction companies of all sizes. And with SureFire CPR's classes, you can learn what it takes to establish an effective emergency response unit.
At SureFire CPR, we offer the finest CPR training for construction enterprises. As one of Southern California's premier companies for construction CPR training courses, we provide a comprehensive, affordable CPR certification for your construction company as well.
OSHA Compliance and Integration
The U.S. Occupational Safety and Health Administration (OSHA) mandates construction companies address numerous hazards at construction sites, including:
Falls – If employees work six or more feet above a lower level, you must provide fall protection.
Ladders and stairways – Working on and around ladders and stairways can be hazardous, and you must help safeguard employees against potential falls if they are required to work on and around ladders and stairways.
Electricity – Electric shock, fires and explosions are among the biggest hazards associated with electricity at construction sites.
SureFire CPR understands the dangers associated with construction sites and works with construction companies to ensure they can safeguard their employees against these hazards. And as a result, SureFire CPR can help your business comply with OSHA guidelines.
Bloodborne Pathogen Training
According to OSHA, bloodborne pathogens consist of "microorganisms that are transmitted through the bloodstream." The most common cause of transmission in the workplace is when an infected person's blood enters another person's bloodstream through an open wound, OSHA notes. OSHA also pointed out for a bloodborne pathogen to be spread, the bodily fluids of an infected person must enter into the bloodstream of another person.
OSHA's bloodborne pathogen standard does not apply to all construction work. However, employees who are required to perform maintenance activities could be exposed to blood or other potentially infectious materials. Thus, OSHA mandates a construction company protect these workers against bloodborne pathogens by requiring a bloodborne pathogens certification.
Federal guidelines sometimes can be difficult to fulfill. But with SureFire CPR, construction companies can obtain the bloodborne pathogen certification along with their CPR and First Aid training. As such, these businesses can reduce the risk of health and safety dangers as well as penalties due to non-compliance.
SureFire CPR: A top choice for construction first aid courses
SureFire CPR offers professional, affordable and convenient first aid and CPR instruction to construction companies throughout the Greater Southern California area. At our industry leading training facilities in Orange County and Riverside County, CPR classes and other certification programs are available to the public are and are taught by professional firefighters, paramedics, lifeguards, nurses and emergency medical technicians (EMTs).
Medical crises happen every day, often without notice, and we believe that a sound education delivered to as many of us as possible is the best way to stop them in their tracks. To prevent these crises, we provide superior training to construction companies in essential life-saving techniques to medical professionals and concerned citizens across Southern California. For all those who care for the public or feel the need to be prepared in case of an emergency, we offer instructor-led CPR classes for your CPR certification, as well as a wide range of first aid courses in emergency procedures.
Give your construction employees the first aid and CPR training they need with support from SureFire CPR. To learn more about SureFire CPR's first aid and CPR tutorials, please visit our website or contact us at (888) 277-3143.