Earthquake Preparedness Checklist
Earthquakes can strike at any time—often without warning. To keep yourself and your loved ones safe, you need to be prepared. One of the best ways to do this is to create an earthquake kit. Portable, accessible, and filled with emergency kit supplies for earthquake catastrophes, an earthquake kit is an indispensable tool in helping you respond to an earthquake the right way. In this guide, our emergency response experts here at SureFire CPR cover everything you need to make the best earthquake kit possible. Learn what to pack, what to avoid, and what you need to have on the earthquake list for your home.
Start With Your Container
Your emergency earthquake kit should to able to fit in a durable and portable container (or set of containers) that you can quickly grab on the go. We recommend sturdy, closable plastic boxes with handles or heavy-duty bags. Both should have separate compartments for easily storing and organizing supplies.
Make Sure Your Earthquake Kit Has a First Aid Kit
Medical supplies are some of the most important contents to include in an earthquake kit. Drugs and medications, dressings and disinfectants, tweezers and knifes, and a host of other first aid supplies should all go in your kit. Check out our First Aid Kit Checklist for a comprehensive list of first aid items to include in your earthquake kit.
Finish Your Kit Off With Earthquake-Specific Supplies
In addition to first aid items, your earthquake kit should contain several essentials to help you address specific issues often caused by earthquakes (such as displacement, loss of power, damage from rubble, and more). Below, you'll find a list of additional items to include in your earthquake kit, as recommended by the CDC.
An ax, shovel, and broom
A screwdriver, pair of pliers, hammer, and adjustable wrench
A rope
Plastic sheeting and tape
Sturdy shoes 
Heavy-duty work gloves 
Candles
Waterproof matches
Extra clothing
A knife
A garden hose
A tent
Recreational supplies for children and adults
Blankets and/or sleeping bags
A portable radio, flashlight, and extra batteries
Essential medications 
Eyeglasses
A multi-purpose dry-chemical fire extinguisher 
Food and water for pets
Toilet tissue
Cash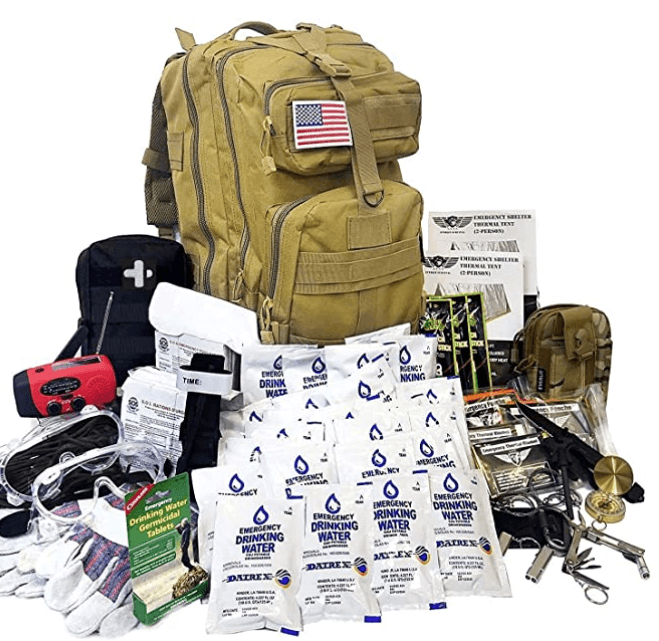 In Your Home or Office: Make an Escape Plan and Keep Large Items On-Hand
There are a few earthquake preparedness items that should exist outside your kit. The first is an evacuation map. This map should be posted somewhere that all residents of your property can see. It should include an earthquake-safe evacuation route made clearly visible to readers young and old. Your property should also have easily-accessible large items like axes, shovels, and an extra fire extinguisher or two to deal with complications caused by rubble.
Why are Earthquake Survival Kits and Training So Important?
At SureFire CPR we focus on real-life situations and try to give you some inside tips as to why things are important. If there is a large-scale emergency, the Fire Department will first pull out all of the fire engines and trucks from the station and drive around the city. They will check parts of the city where they could make the largest impact in the shortest amount of time. (Think hospitals, schools, nursing homes, etc.) They will commit their resources toward these "target hazards" first. After that, they will go to individual homes.
What does this mean for you? Depending on the size of the earthquake, it could be at least 24-48 hours minimum before paramedics or firefighters show up at your door to help you. It is a basic rule of triage, so being prepared is paramount to make sure that you and your family is safe. That is why you must have an earthquake survival kit. The lifesaving resources available on a day-to-day basis will be quickly used during a large emergency and unfortunately you will have to wait.
Looking for some earthquake safety tips (including how to carry and rescue patients and put out fires)? Check out our new, live online Hospital Fire Safety Course. You can take it from the comfort of your couch, and you will be much more prepared in case of an emergency after taking this 4 hour class.
Can You Buy an Earthquake Survival Kit?
Yes—you can absolutely buy an earthquake survival kit. However, it's important to remember that not all earthquake survival kits for sale are created equal. Some are study and outfitted with all the essentials. Others are not. The best way to make sure that you're getting an earthquake kit that will do the job is to check its list of supplies and compare it with the supplies outlined on this guide. If it's missing some, you're better off making your own.
Here at SureFire CPR, we recommend these kits: 2-person earthquake kit and 4-person earthquake kit.