SureFire CPR provides CPR training certifications to restaurant staff and employees to bring the life-saving skills to the workplace. With 70 percent of Americans admitting to feeling helpless during a cardiac emergency, your properly trained staff will have the skills needed to quickly respond during cardiac and respiratory emergencies to save lives. Through our comprehensive restaurant CPR training, you and your staff will know exactly how to respond to potentially double or triple a victim's chance for survival.
SureFire CPR offers complete CPR training from experienced and knowledgeable CPR trainers. We provide small class sizes to offer a relaxing and stress-free environment for students to learn. The small class size allows for a 1 on 1 manikin to student ratio for students to receive more practice learning the vital life-saving skills. The courses are led by qualified instructors who hold real life experience for proper training. With a flexible class schedules and service throughout Southern California, restaurant employees and staff can achieve their CPR certifications quickly.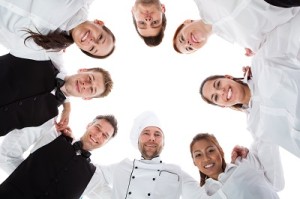 SureFire CPR provides both CPR and AED courses for restaurant employees and staff to bring CPR training to the workplace. Our CPR and AED classes provide the basics of adult, child, and infant CPR, as well as the knowledge and skills needed to respond to both conscious and unconscious choking victims. Students learn how to properly use Automated External Defibrillators (AED) and the conditions that require the use of the defibrillator.
To further enhance the emergency preparation and response time for restaurants, we also provide courses for basic First Aid. Our comprehensive First Aid courses provide patient assessments to respond to trauma, injuries, falls, and seizures. In addition, students learn how to respond to asthma, allergic reactions, and anaphylaxis emergencies. Students will also have the knowledge to help victims with emotional and legal considerations.
Upon completing restaurant CPR training, graduates of our program will receive their CPR certification. Your staff will now have the proper skills needed to respond to a variety of medical conditions that may potentially occur within your restaurant. With a rapid response while waiting for First Responders to arrive, your employees will have the skills to put into action to help save a life.
With SureFire CPR, you will further your emergency response plan by ensuring your employees are properly trained to respond during cardiac and respiratory emergencies. To benefit from our CPR training for restaurants call SureFire CPR today.