Cardiopulmonary resuscitation (CPR) is a series of techniques used to assist cardiac emergency victims. The history of CPR dates back to the 18th century, and today, CPR is an important part of delivering life-saving assistance in cardiac emergencies.
In this guide, we'll take a closer look at the history of CPR and its evolution over the last few centuries. We'll also examine the state of CPR today and how CPR continues to transform everyday citizens into life-savers in communities around the globe.
So, what does the acronym CPR mean? CPR stands for cardiopulmonary resuscitation, an important life-saving technique that involves chest compressions and artificial ventilation. It is often used to treat victims of cardiac arrest and restore blood flow to the vital organs.
According to the American Heart Association (AHA), CPR's inception dates back to 1740, when the Paris Academy of Sciences recommended mouth-to-mouth resuscitation for drowning victims. Mouth-to-mouth resuscitation is a key component of CPR training for emergency medical technicians (EMTs), lifeguards, teachers and many others. This technique may be used to assist individuals who have stopped breathing. Also, mouth-to-mouth resuscitation usually is one of the initial techniques that a first responder will use to help someone who is no longer breathing.
Throughout the 18th and 19th centuries, chest compressions were commonly used to aid cardiac emergency victims. Chest compressions often help reduce the loss of life in cardiac emergencies. They require a person to press on a cardiac arrest victim's chest and may be administered with or without mouth-to-mouth resuscitation.
Some studies have shown that compression-only CPR can help reduce the loss of life as not all bystanders are comfortable performing mouth-to-mouth on a total stranger. It has been found that compression-only CPR can be effective and encourages people to act. The AHA recommends chest compressions be administered at a rate of 100 to 120 beats per minute (or roughly the same beat as the disco tune "Stayin' Alive"). With chest compressions, a bystander can deliver emergency aid to cardiac arrest victims. Plus, the administration of chest compressions as part of immediate CPR may dramatically increase a cardiac arrest victim's chance of survival.
CPR was officially developed in 1960, and the AHA launched a program to teach physicians about close-chest cardiac resuscitation that became the forerunner of CPR training for the general public. The AHA endorsed CPR in 1963, and in the same year, cardiologist Leonard Scherlis created the AHA's CPR Committee. Three years later, the National Research Council of the National Academy of Sciences hosted an ad hoc conference on CPR. The conference, created after many requests from the American National Red Cross and other agencies, led to the establishment of standardized CPR training and performance guidelines.
Additionally, advanced cardiac life support (ACLS) was developed in 1979. Designed for healthcare professionals, ACLS training teaches individuals how to administer medications to emergency victims, along with perform CPR and other life-saving techniques. ACLS training often is a mandate for medical personnel, including dentists, nurses and physicians.
Key CPR Contributors and Milestones
CPR has a rich history with many notable milestones, including:
Paris Academy of Sciences recommends mouth-to-mouth resuscitation for drowning victims.
German surgeon Dr. Friedrich Maass performed chest compressions on a human being; this was the first reported use of chest compressions on a person.
American surgeon Dr. George Crile reported the first successful use of external chest compressions in human resuscitation.
One year after his use of chest compressions to help resuscitate a human being, Crile performed the first American case of closed-chest cardiac massage.
American doctor and respiratory researcher James Elam proved expired air was sufficient to maintain adequate oxygenation.
Austrian physician Peter Safar and Elam created mouth-to-mouth resuscitation.
The U.S. military adopted mouth-to-mouth resuscitation to revive unresponsive cardiac emergency victims.
American Heart Association-funded research from Drs. William Kouwenhoven, James Jude and Guy Knickerbocker show how CPR can save lives after cardiac arrest. The report confirms that effective bystander CPR can double or triple chances of survival.
American physician Leonard Cobb led Medic 2, the world's first mass citizen training in CPR, in Seattle.
A training program for dispatcher-assisted telephone CPR is formed in King County, Washington.
The first pediatric basic life support (BLS) and pediatric advanced life support (PALS) are introduced by the AHA.
AHA guidelines recommend that bystanders perform hands-only CPR rather than mouth to mouth.
Updated guidelines reflect that rescuers should follow "CAB" steps: chest compressions, the airway, then breathing.
Another update to AHA guidelines specifies new recommendations for chest compression depth and CPR speed.
The aforementioned CPR contributors and milestones have paved the way for the growth and development of CPR training programs. In fact, millions of people possess CPR certification that has helped them make a difference in cities and towns around the world.
Key CPR-Related Organizations
Many organizations have played vital roles in the evolution of CPR training, and these organizations include:
AHA: The AHA is the oldest and largest voluntary organization and is dedicated to fighting heart disease and stroke in the United States. It was founded in 1924 and continues to play a pivotal role in the creation of CPR education and training programs.
The Society for the Recovery of Drowned Persons: Formed in 1767, the Society for the Recovery of Drowned Persons represents the first organized effort to deal with sudden and unexpected death.
American Red Cross: On average, the American Red Cross responds to an emergency every 8 seconds. The organization was created in 1881 to deliver emergency assistance, disaster relief and education. Today, the American Red Cross is a leading provider of training that empowers individuals to recognize and respond to cardiac and breathing emergencies.
National Safety Council (NSC): A leading safety advocate for more than 100 years, the NSC strives to stop preventable deaths at work and in homes and communities. To accomplish this goal, the NSC offers CPR and first aid training designed to meet or exceed various federal guidelines.
American Safety and Health Institute (ASHI): Developed in 1996, the ASHI provides flexible CPR and first aid training programs to help people and organizations comply with regulatory requirements.
The aforementioned CPR-related organizations have helped dozens of men, women and children become CPR-certified. Many of these organizations continue to explore CPR training innovations and advancements as well.
CPR Technologies and Techniques
Mechanical ventilation to the trachea was originally utilized in the 16th century. Commonly used in a healthcare or home setting, mechanical ventilation helps individuals breathe. It supports the inhalation of oxygen into the lungs and exhalation of carbon dioxide. Based on an individual's condition, mechanical ventilation may be used to support or completely control a person's breathing.
In the late 18th century, European surgeon and anatomist John Hunter found that he was able to restart the heart after anoxic arrest if artificial ventilation through a tracheostomy was started within the initial 10 minutes. Hunter was one of the first medical professionals to describe the anatomy of the heart and cardiac valves, as well as the complexities associated with the heart's atrioventricular valves. He also was among the initial surgeons to explain the intricacies of the heart's aortic valve.
In 1874, German physiologist Moritz Schiff discovered internal cardiac massage, a technique that involves manual squeezing the heart via a surgical incision in a cardiac arrest victim's chest cavity. Internal cardiac massage is still used to assist cardiac arrest victims and may be performed prior to cardiac surgery.
Internal defibrillation was successfully administered in 1947 during an operation to correct a funnel chest deformity. At this time, American cardiac surgeon Claude Beck performed the first successful external defibrillation of a 14-year-old male patient – the first known use of an automated external defibrillator (AED). Beck's AED was produced by James Rand of RAND Corp., an American nonprofit global think tank. The device included silver paddles – each roughly the size of a large tablespoon – and was intended for use in open-chest emergencies.
In 1956, American cardiologist Paul Zoll created an AED that was used to conduct the first closed-chest defibrillation. With a closed-chest defibrillator, alternating voltage can be applied externally via the chest cage to the heart. Zoll defibrillators are available today and remain a staple in many cardiac care units.
AEDs now are commonplace in malls, schools, airports, gyms and other public venues, in addition to medical settings. These portable devices are used to check the heart rhythm in a cardiac arrest victim. If a cardiac arrest victim's heart rhythm is out of sync, an AED can send an electric shock to the heart to try to restore a normal rhythm.
Moreover, AEDs are lightweight, battery-operated and easy to use. Each AED comes with instructions, and the device even delivers voice prompts to let an individual know if and when a shock should be sent to a cardiac arrest victim's heart.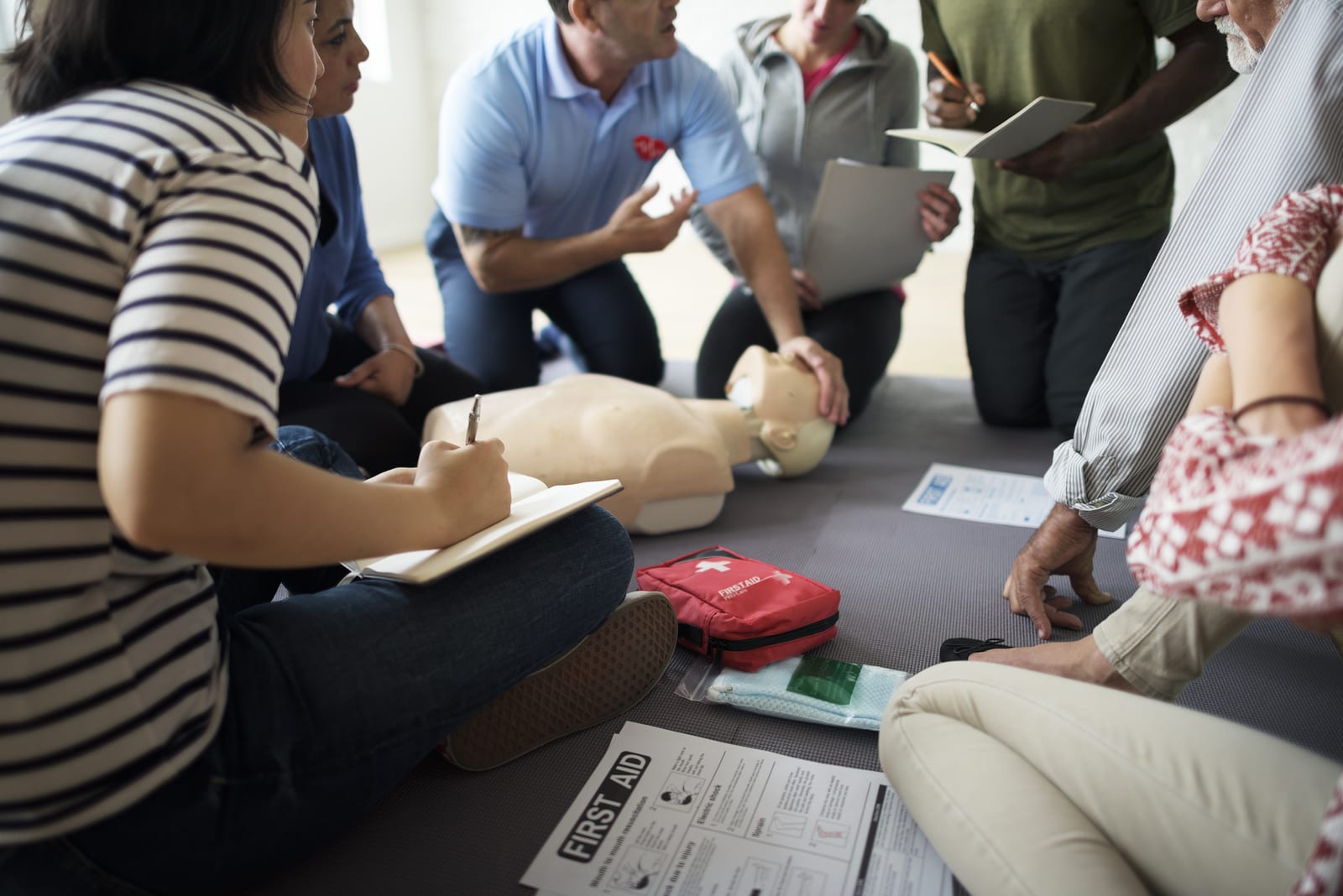 CPR is exceedingly important to individuals across the United States, and this trend appears likely to continue in the foreseeable future. To better understand why this may be the case, let's first consider the following CPR-related statistics from the AHA:
Nearly 383,000 out-of-hospital sudden cardiac arrest incidents occur annually. In most instances, cardiac arrest victims appear healthy and show no signs of heart disease or other risk factors.
Four out of five cardiac arrest incidents occur at home; this means a cardiac arrest victim is likely to be a loved one.
Effective bystander CPR that is administered immediately following sudden cardiac arrest can double or even triple a victim's chance of survival, and yet only 46% of these victims received bystander CPR before first responders arrived.
Most incidences of cardiac arrest occur at home (70%), and many occur in public settings and at nursing homes. Around 10,000 cardiac arrests occur in the workplace annually in the United States.
Around 90% of those who undergo cardiac arrest outside of the hospital die; each year, 475,000 people die from cardiac arrest in the United States.
The AHA offers CPR training to over 22 million people each year, putting the life-saving power of CPR into the hands of people around the globe. Furthermore, nearly 2.3 million people take Red Cross first aid each year, CPR and AED training, and over a million people annually enroll in ASHI CPR training in the US and throughout 100 countries.
Many techniques and technologies may reshape the administration of CPR in the years to come, such as:
ResQPOD Flow-Enhanced CPR: The ResQPOD device is designed to enhance circulation in patients who require assisted ventilation, including those who are receiving CPR. ResQPOD has been shown to increase blood flow to the heart and brain during assisted ventilation and improve a cardiac arrest victim's chance of survival. Therefore, ResQPOD may prove to be an ideal complement to standard CPR.
Simulation Manikins: New manikins are being developed that provide real-time feedback to CPR students. For example, the Laerdal Resusci Anne® SkillReporter CPR training solution can be used in conjunction with multiple manikins to teach CPR students about proper CPR hand placement, compression depth and ventilation volume. Simulation manikins may become a centerpiece of hands-on CPR training sessions. These manikins can help CPR students engage in an interactive learning experience. They also can provide CPR students with advanced insights that they won't be able to obtain if they practice CPR techniques on a traditional manikin.
Retraining Guideline Updates: The AHA recommends laypeople and healthcare professionals receive CPR training every two years. Conversely, several studies indicate two-year recertification may be insufficient. This means it may be only a matter of time before the AHA and other CPR-related organizations require more frequent CPR recertification than they did in the past.
CPR Mobile Apps: Smartphone applications geared toward bystander CPR could make it easier than ever before for everyday citizens to administer life-saving assistance in cardiac emergencies. Some mobile apps are currently available that send text alerts when CPR is needed to help cardiac arrest victims get the assistance they need, exactly when they need it. Other mobile apps provide individuals with the locations of the closest AEDs, along with guided instructions to help people quickly and effectively administer bystander CPR.
Audio-Visual Feedback Devices: Thanks to audio-visual feedback devices, CPR students may be better equipped than ever before to perform CPR techniques. Some of these devices feature a metronome to help keep pace of CPR chest compressions. They also can provide visual feedback on CPR compression depth.
Hybrid Online CPR courses: Training is more accessible and convenient for everyone thanks to virtual CPR courses. Students can now learn the foundations of CPR from home and perform the necessary hands on skills in a short, instructor led session. This saves time while still providing the proper training to save lives. Hybrid Online CPR courses like SureFire CPR's are helping to exponentially increase the number of trained bystanders in our communities––ultimately leading to more lives saved.
AutoPulse Resuscitation System: The AutoPulse Resuscitation System is another device that may come to change the future of CPR. This battery-operated device automates CPR and allows CPR to continue uninterrupted while a patient is being transported on a stretcher. Users attach the device to the patient's chest and it squeezes the patient's entire chest, which can help improve blood flow and treat cases of cardiac arrest.
Clearly, the future of CPR looks bright. The evolution of CPR techniques and technologies may help further reduce the loss of life in cardiac emergencies. It may even lead many children and adults to become CPR-certified.
CPR Education: What You Need to Know
Much in the same way that CPR training and techniques have evolved over the years, CPR education continues to make strides. Thus, individuals today should have no trouble participating in CPR training at their convenience.
In the past, people may have had to travel long distances to enroll in CPR classes. As the demand for CPR courses has increased, however, CPR training has become generally available. This means that anyone – regardless of age or CPR experience – can earn their CPR certification. CPR classes also can be offered to an entire classroom of grade-school students or across a workforce, ensuring many individuals can become CPR-certified at the same time.
It does not take long to become CPR-certified, either. Most CPR classes enable students to receive their CPR certification in just a few hours. Upon successful completion of a CPR class, each student will receive a CPR certification card that remains valid for up to two years.
Ultimately, there are many reasons why individuals may become CPR-certified, and these include:
You can become a life-saver in cardiac emergencies. There is no telling when or where a cardiac emergency will happen and most commonly it happens to someone you love as you spend the most time with them. Fortunately, a CPR-certified individual knows how to provide assistance in all cardiac emergencies and can help reduce the loss of life in these critical situations.
You can take the first step toward a career in the medical field. If a person wants to pursue a career as an EMT, paramedic, doctor, nurse or any other medical role, CPR certification is a must-have.
You can choose a CPR class that fits your schedule. CPR classes are available during the week, along with nights and weekends. This means that anyone can find a CPR class without having to rework his or her schedule.
You can learn from expert CPR instructors. CPR classes are taught by EMTs, paramedics, firefighters, nurses and other healthcare and medical professionals who are happy to share their real world insights with students. That way, students can find out how to perform CPR in real world cardiac emergencies.
You can gain hands-on experience. CPR classes feature manikins that enable students to practice various CPR techniques. The classes ensure students can feel what it's like to perform chest compressions, mouth-to-mouth resuscitation and other CPR techniques.
Lastly, although CPR classes are available both in-person and online, it is important to note the differences between both types of course offerings.
In-person CPR classes typically combine hands-on and classroom lessons. They allow students to ask questions to medical personnel who understand the ins and outs of CPR as well. As a result, in-person CPR classes help students take the guesswork out of CPR and gain the CPR skills and confidence they need to succeed in cardiac emergencies.
On the other hand, online CPR classes may include a series of documents, images, videos and other digital resources designed to show students how to administer CPR. Online CPR classes enable students to complete CPR training at their convenience, but they often lack the depth of in-person courses. Many agencies that require CPR training will not accept online CPR classes.
When it comes to CPR training, why should an individual be forced to leave anything to chance? The bottom line: it usually pays to err on the side of caution, particularly with CPR classes. If a person signs up for an in-person CPR class, he or she can receive comprehensive CPR training and support – all of which may prove to be the difference between life and death in a cardiac emergency.
Sign Up for CPR Classes Today
From the 18th century until today, CPR has helped laypeople and medical personnel alike become key contributors in cardiac emergencies. And with the ongoing development of innovative CPR techniques and technology, the future of CPR looks promising.
For those who are interested in CPR, there is no reason to wait to become CPR-certified. In-depth CPR classes available, and these courses teach students exactly what it takes to administer CPR in cardiac emergencies.
SureFire CPR has helped many students earn their CPR certification. We serve as a leading provider of CPR classes in Southern California and take pride in helping students obtain CPR certification. To find out more about our CPR training, please contact us today at (888) 277-3143  or Schedule A Class