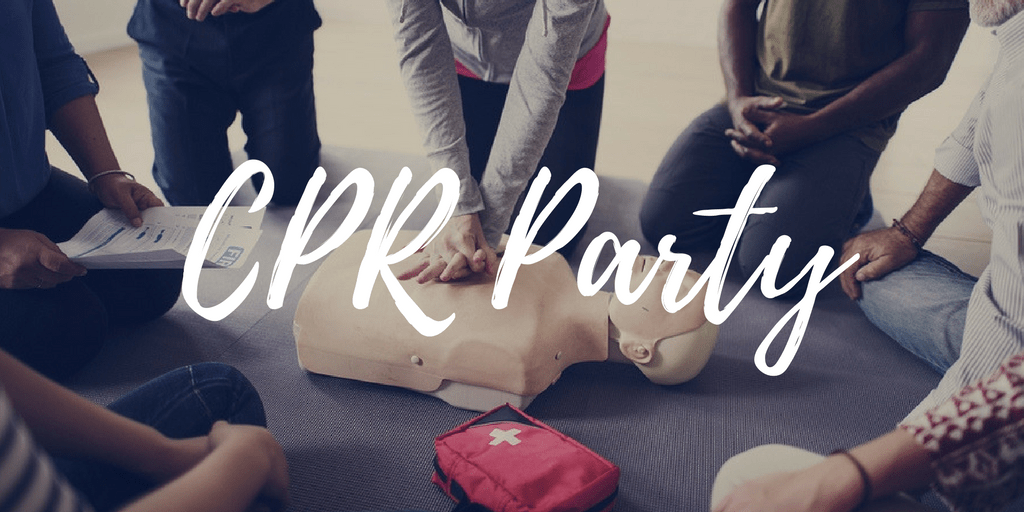 Learn CPR in a fun, comfortable setting with family members and friends
Want to learn lifesaving skills in a fun, engaging learning environment? Thanks to SureFire CPR's new CPR Party, you and your family members and friends can learn how to perform cardiopulmonary resuscitation (CPR), use an automated external defibrillator (AED) and much more.
At SureFire CPR, our goal is to empower students with lifesaving skills. And with our CPR Party, we're making it easier than ever for you and your family members and friends to discover what it takes to deliver lifesaving support in emergencies.
Our CPR Party serves as a CPR and AED training course designed for students of all skill levels. It it taught by a professional emergency medical technician (EMT), firefighter or paramedic and ensures up to 10 family members and friends can receive expert insights into the fundamentals of CPR.
This course is designed as an informational learning experience and is a non-certification course, therefore, you will not receive a certification card at the end of the course.
Why Do You Need to Learn How to Perform CPR?
To better understand the importance of CPR parties, let's first consider CPR itself.
An individual may administer CPR to someone who is not getting sufficient oxygen or adequate blood circulation. In either of these scenarios, CPR may be used to restore circulation of oxygen-rich blood to the brain. Because if a person lacks sufficient oxygen, he or she could suffer permanent brain damage or death within just minutes.
CPR involves a combination of chest compressions and rescue breathing. If an individual suffers cardiac arrest, CPR must be administered immediately. Otherwise, a cardiac arrest victim faces many life-threatening risks.
Clearly, CPR is exceedingly important, particularly for those who want to assist sudden cardiac arrest (SCA) victims in critical situations. Yet recent data shows few individuals understand how to administer CPR in emergencies.
According to the American Heart Association (AHA), 70 percent of Americans feel helpless to act during a cardiac emergency. This helplessness may come from individuals' lack of CPR knowledge, or the fact that their CPR training has significantly lapsed.
Furthermore, the AHA points out CPR can make a world of difference in the lives of SCA victims – just consider the following stats:
Four out of five cardiac arrest incidents occur at home. This indicates an individual who suffers cardiac arrest likely will be a loved one. And if an individual lacks CPR training, he or she probably will struggle to provide immediate support to a family member or friend who suffers cardiac arrest.
Only 32 percent of SCA victims receive bystander CPR. In most instances, bystanders will not administer CPR to SCA victims. This may lead to loss of lives – something that may be avoided if individuals receive the proper CPR training.
Less than 8 percent of SCA victims who suffer cardiac arrest outside of a hospital survive. Individuals who know how to perform CPR can help SCA victims outside of a hospital until advanced medical personnel arrive on scene. However, few people possess the training needed to provide proper CPR assistance to SCA victims outside of a hospital.
Bystander CPR that is administered immediately after an individual suffers cardiac arrest can double or triple this person's chances of survival. Ultimately, bystander CPR could prove to be the difference between life or death for an SCA victim.
The AHA notes more than 12 million Americans receive CPR training annually. Although many CPR training programs take place in classroom settings, CPR parties represent the next wave of CPR training.
What Will You Learn During a CPR Party?
A CPR party offers a CPR and automated external defibrillator (AED) training course. It is designed for students of all skill levels and taught by a professional emergency medical technician (EMT), firefighter or paramedic. That way, students can learn the ins and outs of CPR from a medical expert.
In addition, a CPR party ensures students can learn about a wide range of emergency topics, including:
How to administer adult, child and infant CPR. Students can gain real world skills so they can perform CPR on individuals of all ages.
How to use an AED. With an AED, an individual can analyze the heart's rhythm and deliver an electrical shock to an SCA victim if necessary. As such, those who know how to use an AED may be able to reduce the loss of life in SCA emergencies.
How to support conscious and unconscious choking victims. If an individual starts choking, what should a person do? Thanks to a CPR party, anyone can find out how to properly aid conscious and unconscious choking victims of all ages.
Who Can Participate in a CPR Party?
Anyone who wants to learn CPR can participate in the CPR Party! In fact, our CPR Party represents a great option for many people, including:
Mommy and me group members
Families of a new baby
Parents of a child with disabilities
Perhaps best of all, no one will feel left out during a CPR party. This one-of-a-kind learning experience allows individuals to receive first-hand insights into CPR from a medical professional as well as receive immediate responses to their CPR concerns and questions. As a result, anyone can attend a CPR party to learn valuable CPR skills in a fun, interactive learning environment.
What Should You Expect During a CPR Party?
A CPR Party features two hours of instruction from an experienced medical professional in an exciting yet informal learning environment, one that encourages students to ask questions.
Upon successful completion of the course, each participant will receive a list of local public AEDs and a keychain mask that will ensure you're equipped to perform CPR safely.
In addition, those who book a CPR Party can receive a free newborn photo shoot from Stevie Cruz Photography – a $200 value! This photo shoot guarantees you can pick up awe-inspiring keepsake prints, albums, canvases and more from one of Orange County's top-rated photography studios.
Why Should You Book a CPR Party?
When it comes to CPR lessons, there is no need to leave anything to chance. Fortunately, SureFire CPR offers world-class CPR parties that make it easy for anyone to build their CPR skill set.
SureFire CPR is a leading provider of CPR training programs in Southern California. For many years, we have dedicated ourselves to teaching individuals how to administer CPR correctly so they can become life-savers in their communities.
Today, SureFire CPR provides CPR parties that enable individuals to participate in CPR training in a casual, comfortable setting. Our CPR parties are available for up to 10 people at a time and offer many benefits, including:
First-Rate Training: Our CPR parties are taught by medical professionals who boast extensive training and experience.
Flexible Scheduling: Individuals can book a CPR party at their convenience. Also, our CPR parties can be held at any location.
Fast, Effective Lessons: Each CPR party includes two hours of instruction and encourages students to ask questions.
What happens after a CPR party? Upon successful completion of a CPR party, we provide all students with a list of local public AEDs and a keychain mask. This guarantees each individual is equipped to perform CPR both now and in the future.
Ready to build your CPR skill set? Plan a CPR party with SureFire CPR, and you can learn a variety of life-saving skills.
Take advantage of our CPR Party today! To learn more about our CPR Party or to book a CPR Party, please contact us at (888) 277-3143.