CPR Certification and AED Course in Orange County
(2 Year Certification) – Same Day Certification Card!
Recommended for: Laypeople, Security Guards, Yoga instructors, Fitness Trainers and Teachers.
The CPR and AED Class covers:
How to Administer Adult, Child and Infant CPR
How to Use an Automated External Defibrillator (AED) and Special Considerations
How to Assist Conscious and Unconscious Choking Victims
**This class fulfills the CPR requirement for the California Teaching Credential
**This class is NOT for Daycare Providers or Preschool Teachers (Please take ourPediatric First Aid and CPR Course
**This class is NOT for Healthcare Providers (Please take our BLS course if you are in healthcare!)
Class Running Time: Approximately 2.5 Hours
Click on a class below to enroll
CPR Certification in Orange County
Orange County, California is an epicenter of the medical community. With hundreds of hospitals and treatment centers, there is a deep need for appropriately trained healthcare professionals – and an onus on private citizens to help do their part. Mandatory for caregivers, CPR is a skill so fundamental to helping those in need that it's strongly recommended for the public at large as well. Through this instruction, both professionals and laypeople are able to save countless lives each year. Learning the protocol and becoming certified in its practice can assure you a sense of security over your career or simply over the safety of others.
CPR certification class in Orange County allows those outside the medical field to gain the knowledge they need to save lives. For professionals who work in one of Orange County's hospitals or medical centers, the BLS class – (Basic Life Support which is the CPR certification for Healthcare Providers) – will deliver the skills they need in one of the most important aspects of their job. Through these courses, both professionals and laypeople learn how to properly respond to cardiac and breathing emergencies, making it possible for them to save the lives of bystanders and patients who experience cardiac arrest. These CPR classes and BLS classes help those who provide care for others to become comfortable with both the baseline technique as well as the use of medical equipment like the AED (Automated External Defibrillators). With this training, laypersons and healthcare professionals can further their careers by adequately preparing themselves to provide this life-saving service.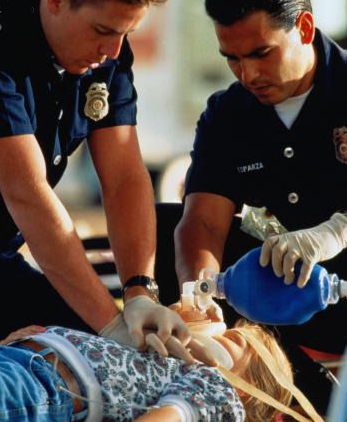 A Standard-Setting CPR Course
SureFire CPR offers the most rigorous and effective CPR certification course you'll find anywhere, with only the highest standards of instruction. Our teachers are all acknowledged experts in emergency care with direct current experience in their field. They lead classes founded on engagement and participation, encouraging an open dialogue and ensuring that all students achieve the level of training they'll need to deliver confident care should it ever be needed. A strict one-to-one student-to-manikin ratio is enforced to give everyone the time and resources they need to grow comfortable with the technique. Since it's such a vital protocol, we make absolutely sure it sticks – so that your certification is more than just a piece of paper.
All CPR classes are taught teaching adult, child and infant CPR techniques along with the use of the AED (Automatic External Defibrillator. SureFire CPR also offers more advanced life support skills for medical professionals that include advanced cardiac life support and pediatric advanced life support.
Do I Need to Get Certified?
Well – yes. Heart disease is the leading cause of death, with 400,000 Americans dying each year of cardiac arrest. Although the chance of survival goes up threefold when CPR is administered, only a third of victims receive it – and less than a third of Americans know how to do it. Whether you're a medical professional or not, choosing to get CPR training could save a life. If you do work in the healthcare field, CPR certification is usually mandatory, including periodic renewals to make sure the technique is always fresh in your mind. The list of professions that require it is long, but it includes doctors, dentists, nurses, paramedics, emergency medical technicians, physicians' assistants, child care providers, firefighters, lifeguards, and virtually any other job that requires people to take even partial responsibility for someone's health. It's also popularly undertaken among businesses that cater to the public in large numbers, like restaurants or movie theatres.
Which Orange County Businesses Require CPR Certification?
CPR is an essential life-saving skill that every person should know how to perform. In Orange County, there are several employers that require their employees to be CPR-certified. If you have a customer-facing industry in food service, hospitality, or sales, you will likely need to CPR certified. Likewise, those working in childcare or education must have an up-to-date CPR certification. Finally, individuals working in roles that routinely deal with other people — such as construction, personal training, and social work — all must be CPR-certified.
Browse our course offerings and contact us to sign up for a class, which can be taken at any one of multiple convenient locations in Orange County and across Southern California. It's the choice that could save a life.
How To Register For Our Course
Ready to register for the SureFire CPR class in Orange County? It's simple!
Select the date, time, and location that works best for you. Our courses are offered in a variety of times and locations to help you fit training into your busy schedule.
Make sure you're signing up for the correct course. This course is great for lay people, security guards, fitness instructors, and more. It also fulfills the CPR requirement for the California Teaching Credential. If you are a healthcare provider, you should sign up for our BLS Class instead. If you are a daycare provider or a preschool teacher, you'll want to take our Pediatric First Aid and CPR class that focuses on pediatric CPR.
If you would like to add a first aid kit or a CPR mask to your purchase, select the desired option!
When you continue with registration, we request that you provide us with a few details, such as contact information, survey questions, and any special requests you may have.
Be sure to check our reschedule and cancellation policy. You may reschedule your class up to 3 times. After that, we will charge a small rescheduling fee. If you need to cancel your course, please do so more than 72 hours in advance to receive a full refund.
If you have any questions or concerns during the registration process, feel free to give us a call or reach out via our online contact form. We're happy to help!
Want to Learn More About CPR Training in Orange County?
Our team of experts is happy to answer any questions you may have about CPR, first aid, and other safety topics. As a top provider in Southern California, our mission is to provide our students with a high-quality education through hands-on experiences, real-world examples, and a supporting learning environment.
To get started learning life-saving skills, enroll in one of our many courses for CPR certification in Orange County. You can contact us by phone at (888) 277-3143 or through our online contact form today!
Have questions about CPR training and CPR certification in Orange County? We have answers. See frequently asked questions about CPR and our training here at SureFire CPR, and read answers from our expert team.