If you've ever seen toddlers in action, you know they don't prioritize safety. Care-free, reckless abandon plus newly-found motor skills make a chaotic mixture that needs constant supervision. For new parents, this can be both sobering and scary. Safeguarding a toddler can be stressful — but with the right knowledge and skills, you can be prepared for any scenario. In this guide, our safety experts cover five essential toddler safety tips can that can help you save the life of your little one.
1. Get CPR Certified and Learn How to Administer Choking Aid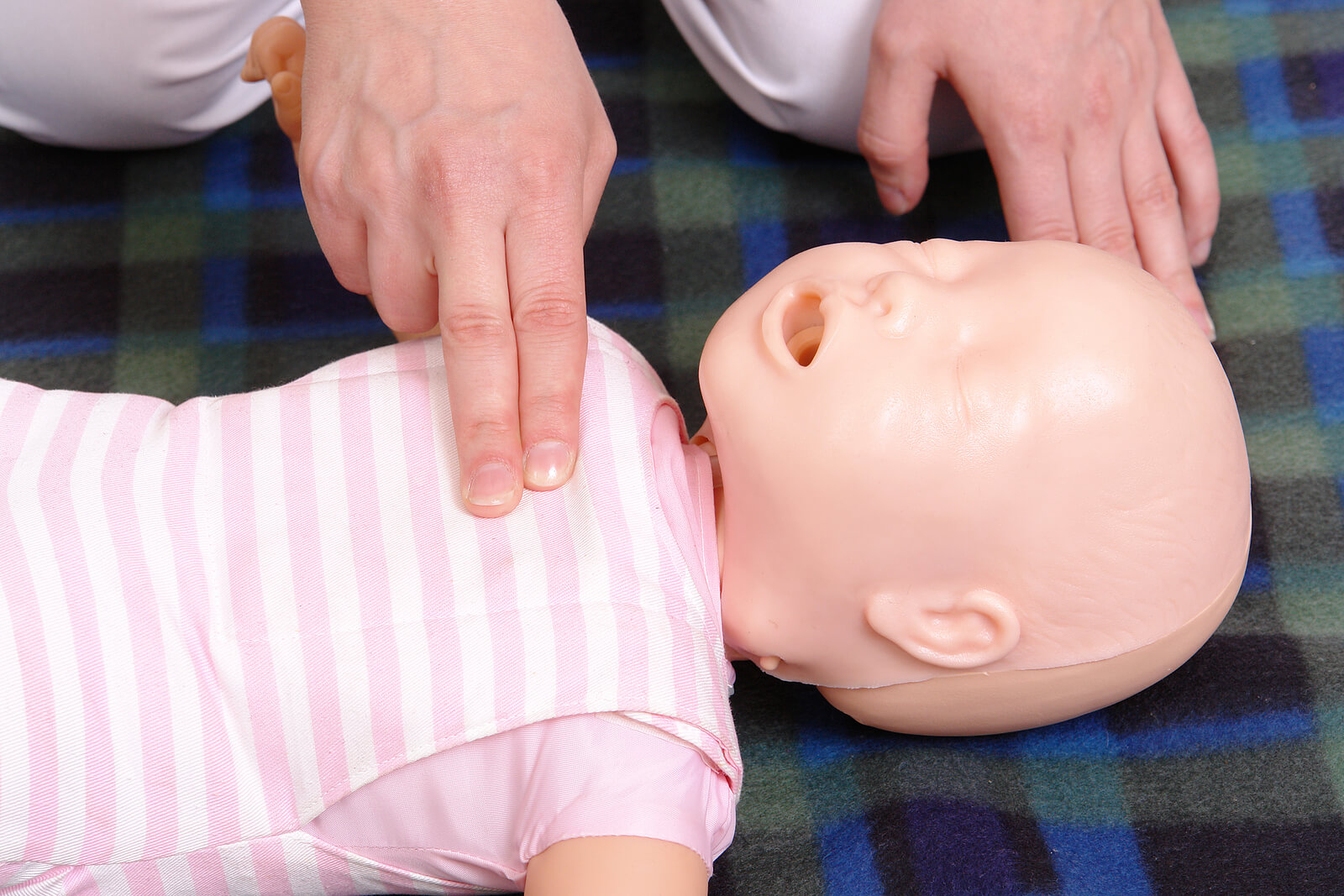 First on our list of child safety tips for parents is CPR. Short for cardiopulmonary resuscitation, CPR is an indispensable life-saving skill that can manually preserve brain function in the event of heart failure. CPR uses chest compressions and (often) artificial ventilation to maintain blood flow and supply the brain with oxygen. According to the American Heart Association, over 7,000 children suffer an out-of-hospital cardiac arrest annually. The survival rates for these children heavily depend on the presence of an individual who knows how to perform a CPR on the spot. To ensure that you are one of those individuals, it's a great idea to get CPR certified. During a CPR certification course, you'll get expert instruction on how to perform CPR on adults, children, and infants so you'll know just what to do in the event of a cardiopulmonary emergency.
Accredited CPR certification courses also teach students how to administer aid for another common emergency that befalls toddlers: choking. Curious hands and new teeth lead to several foreign objects approaching and/or entering the mouth. While attentive parenting can stop many of these objects from every going into the mouth, there may be a moment or two that you miss. In that moment, there is a small though significant chance that your toddler could begin to swallow the item in his or her mouth. Should complications occur in that moment, you need to be ready. CPR courses teach you how to administer specialized choking aid for children and infants as well as adults.
2. Learn and Teach Water Safety
Among the many hazardous things that toddlers love is water. Unfortunately, toddlers do not know how to swim. Even those taught to float as infants may only do so for a matter of seconds, which leaves you very little time to react. For your toddler, the best water safety plan is a preventative one. Start by repeatedly telling your toddler never to go near water unsupervised. While these teaching moments may fall on deaf ears, there is a chance that your toddler may remember your cautionary words enough to approach bodies of water with trepidation.
Teaching safety to toddlers who want to play in water can be an uphill battle, so the onus falls on you to keep your toddler safe and supervised around water at all times. Never leave your child unattended near water in any form. It only takes an inch or two of water to make drowning a possibility. For this reason, kiddie pools, bathtubs, and even puddles should be treated with the same care and attentiveness as the ocean. Keep your bathroom door closed, fence all sides of your pool, and stay within arm's length of your child whenever you take him or her near water.
3. Keep Your Home Free of Hazardous Areas
Within your home, there are a number of areas and items that can pose serious safety risks to your toddler. Perhaps the most common ones are household cleaning products. Detergents, polishes, oils, and other synthetic chemicals can be lethal if ingested — and sometimes, toddlers can't help themselves. Keep these items securely locked up or stored on unreachable top shelves with child-safe caps. If your toddler does manage to swallow something poisonous, call the Poison Help hotline at 1 (800) 222-1222 immediately.
Firearms and other weaponry are another class of dangerous items often found in homes. If you own a weapon, make sure it is securely locked and hidden from your toddler.
Lastly, you'll want to keep an eye out for general areas in your home that may lead to injury for adventurous toddlers. These include the corners of tables and countertops (which can be padded with foam), large staircases (which can be protected with a child-proof gate), and windows (which should always be locked). 
4. Prevent Burns and Falls
We've covered windows and staircases, but there are a host of additional areas that can lead to serious fall injuries for toddlers. These include basement and attic entries, chairs carelessly left next to counters or tables — and, of course, the great outdoors. While quick locking and rearranging can toddler-proof your indoor space, you'll have to outdoor-proof your toddler when he or she goes outside. Always carry disinfectant and bandages on trips to the playground, and make sure your toddler wears a helmet if he or she attempts to ride a bike. Most importantly, keep a close eye on your little one at all times.
In the home and beyond, fire is yet another major hazard for toddlers. One of the biggest sources or fire and heat is the kitchen — so keep your toddler away while you are preparing food. Toddlers should also be kept away from heaters or other hot objects in bedrooms and living rooms. Finally, keep hot items such as cups of coffee or hot food out of reach of your toddler. Teaching fire safety to toddlers should be a point of emphasis whenever possible, but if he or she does get burned, keep cold water on the area for several minutes, then apply a dry bandage. Also, make sure all smoke alarms are working in your home.
5. Don't Forget Car Safety 
Last on our list is the car: a potential safety hazard for all riders, especially young ones. Always drive safely and ensure that your toddler is always seated in a child-safety car set. Never leave your toddler alone in the car — even if you'll only be gone for a minute — and keep your vehicle locked at all times.
Keep Your Toddler Safe With SureFire CPR
Want to learn more about toddler safety? Ready to learn the necessary skills to keep your toddler safe in any situation? Our team at SureFire CPR is here to help. Contact us or call us at (888) 277-3143 to get your questions answered and enroll in one of our award-winning toddler safety classes today!