SureFire CPR offers cardiopulmonary resuscitation (CPR) training for teachers at our local offices or school!  By doing so, we make it easy for school teachers to participate in CPR training at any time.
What Is CPR Training for Teachers?
All public school teachers are required to complete a CPR training for their credentialing. This course emphasizes several life-saving topics, including:
The administration of adult, child and infant CPR
Proper use of an automated external defibrillator (AED) and special considerations
How to support conscious and unconscious choking victims of all ages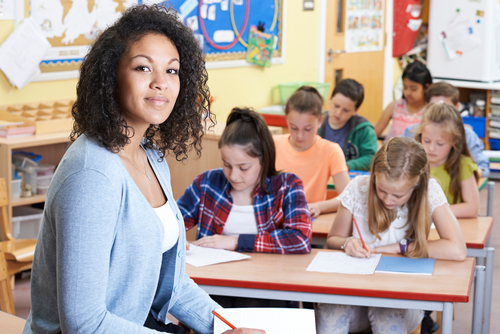 CPR certification for teachers is easy to obtain. A typical CPR certification for teachers class requires about three hours to complete. Upon successful completion of this class, a teacher will receive a CPR and AED certification card that will remain valid for two years.
Although CPR training for teachers certification expires after two years, teachers do not currently have to renew their CPR certification when they renew their teaching credential in the state of Califonia. However, we strongly recommend all school teachers renew their CPR certification periodically. By renewing the CPR and first aid classes for teachers, it provides up-to-date CPR training guidelines and tips so teachers can gain the skills and know-how needed to provide life-saving assistance at all times.
What Are Some of the CPR Classes for Teachers?
CPR and first aid classes for teachers are the most common options for public school teachers. These classes empower teachers with life-saving expertise that they can use to deliver vital support in emergencies.
For those who are looking for advanced CPR training for teachers, several options are available, including:
CPR, AED and First Aid: Covers the same topics as a CPR and first aid class and offers insights into basic first aid.
Basic First Aid: Provides details about how teachers can administer appropriate first aid to a victim until advanced medical personnel arrive on scene.
Pediatric First Aid and CPR: Offers training and certification in pediatric first aid and adult, child, and infant CPR.
CPR classes for teachers are designed for school teachers of all ages and experience levels. These classes are essential, and ultimately, may prove to be the difference between life and death in critical situations.
Why Should You Enroll in CPR Training for Teachers from SureFire CPR?
There are many reasons to enroll in CPR certification for teachers from SureFire CPR, including:
Comprehensive Classes: Our CPR training for teachers is unmatched, and we constantly go above and beyond the call of duty to empower teachers with in-depth insights into CPR, first aid and other life-saving topics.
Expert Instructors: Our CPR training for teachers staff includes EMTs, paramedics, firefighters and other expert medical personnel.
Flexible Schedules: Our CPR certification for teachers classes are available at various times throughout the week at our local offices, ensuring you won't have to rework your day-to-day schedule to find a class that works for you.
Ready to enroll in CPR training for teachers? To find out more about our CPR training for teachers courses, please contact us today at (888) 277-3143 or email us.