CPR Certification and Classes for Healthcare Providers
Healthcare providers should have a firm grasp of fundamental CPR (Cardiopulmonary resuscitation) concepts. With CPR training for healthcare providers, SureFire CPR is the best place to receive quality, comprehensive instruction. CPR certification for healthcare providers is a great way to expand your knowledge and, more importantly, save lives. CPR classes for your healthcare provider are crucial for establishing an emergency response plan.
SureFire CPR has an experienced, professional team of instructors for any healthcare provider CPR training course. Our Southern California location makes SureFire CPR an ideal CPR training source for healthcare providers throughout Orange County, Riverside County and the greater Los Angeles area.
As any healthcare professional knows, CPR training for providers and others is a critical tool for saving lives. And CPR training for healthcare providers goes beyond the workplace. Consider these statistics (source, American Heart Association, "CPR Fact Sheet"):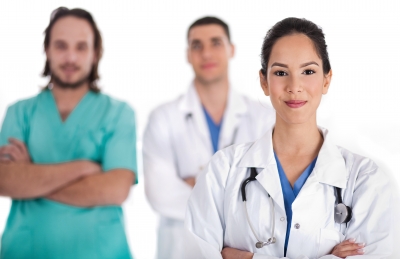 Almost 383,000 out-of-hospital sudden cardiac arrests occur every year.
Nearly 90% of cardiac arrests occur at home.
Many victims appear healthy and exhibit no known heart disease or other risk factors.
A heart attack is not the same as sudden cardiac arrest (sudden cardiac arrest occurs when electrical impulses in the heart become rapid or chaotic, while a heart attack is caused by a blocked supply of blood to the heart. A heart attack may cause cardiac arrest.
With CPR training for healthcare providers, SureFire can initialize or update any CPR certification. Healthcare providers require CPR certification for a wide range of potential emergencies.
Who should enroll in CPR for healthcare providers?
If you are a healthcare provider, your CPR knowledge requirements might be different from the general public. Our CPR classes for healthcare providers are specially designed for those who work in a medical setting so that you'll have the practical skills you need on the job. This course is recommended for:
Doctors
Registered nurses (RNs)
Emergency medical technicians (EMTs)
Dentists
Pharmacists
Other medical personnel
If you're interested in acquiring CPR classes for a healthcare provider, contact SureFire CPR. Our reputation is well-established in Southern California and beyond.
How can you benefit from CPR training for a healthcare provider? SureFire offers the following features:
Training anywhere. CPR training for a healthcare provider can occur at any of our 3 offices (Orange, Laguna Hills or Corona), or we can conduct healthcare provider CPR classes at your facility.
Experience. SureFire's healthcare provider CPR classes are conducted by firefighters, paramedics, lifeguards and EMTs. Plus, our healthcare provider CPR training courses will feature real-life situations to optimize emergency response efficiency.
Price. SureFire CPR certification for healthcare providers is affordable and flexible enough to fit any budget. Please call us at 888-277-3143 to schedule CPR training for healthcare providers. Or, you can contact us via email at info@surefirecpr.com. We can address any concerns or questions.
Frequently Asked Questions About Healthcare CPR
If a patient needs CPR during your shift, you need to act swiftly and effectively. A course in CPR training for healthcare providers will equip you with the potentially life-saving expertise you'll need to do so. SureFire CPR's courses cover the following important topics:
How to administer adult, child and infant CPR
How to use an Automated External Defibrillator (AED) and special considerations for AED use
How to assist both unconscious and conscious choking victims
How to use breathing barriers, bag valve masks, and 2-rescuer CPR
How to handle cardiopulmonary emergencies and special resuscitation situations
As medical professionals ourselves, we understand how important thorough training is. We use real-world examples, engaging lessons, and practical applications so that you can leave the classroom feeling confident and prepared with your new skills.
We know that as a healthcare provider, your time is valuable. We want to make it easy for you to fit training into your busy schedule. SureFire CPR's CPR certification for healthcare providers runs for about 3 hours and 30 minutes. There is plenty of time for you to ask any questions you may have, but we won't take up your whole day!
For most healthcare providers, CPR certification is a requirement. You will likely need to renew your certification before it expires in order to maintain your license. SureFire CPR offers CPR renewal for healthcare providers so that it's easy to refresh your skills and stay up-to-date on your certification. These courses can be taken around your schedule, at your convenience.