Click on a class below to enroll
Corona's convenient location on the western end of Riverside County makes it easily accessible to the greater Inland Empire region and the Los Angeles metro area. This means that world-class medical facilities (Loma Linda University Medical Center, LA + USC Medical Center and the Cedars-Sinai Medical Center, just to name a few) are within reasonable driving distance. Plus, the city of Corona is also served by Riverside Community Hospital and the Corona Regional Medical Center. Bottom line – Corona is a great place to have a CPR certification under your belt. But if those credentials are set to expire, it's time to look for CPR renewal for the Corona area. No other training firm works with you like SureFire CPR.
Our CPR classes are valid for 2 years. After 24 months, the CPR certification expires. During the 2-year validation period, you can attend refresher CPR classes to brush up on technique, master your skills or gain additional knowledge – but after 2 years, a CPR recertification for people of the Corona area is necessary.
Schedule a Corona CPR Renewal Class – Stay Certified the Easy Way!
CPR certification is required by many public and private facilities. Other professions (teachers, day care instructors, etc.) that you wouldn't normally associate with BLS are also changing minimum standards for prospective employees. For anyone that needs CPR to do their job in the Corona-area, SureFire CPR can help renew your CPR certification.
Expired CPR credentials can hinder one's ability to continue doing their job, depending on the type of work they are involved in. No matter what your career may entail, being CPR certified can be of use in any given situation.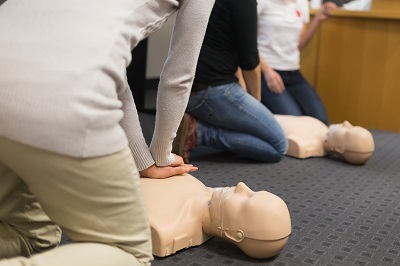 Sign up for a CPR Recertification Class in Corona
If your CPR credentials have lapsed or are about to expire, sign up for Corona CPR certification renewal today. SureFire CPR offers CPR renewal in Corona, along with initial training, hands-on instruction sessions and much more. Our student-first, knowledge-based classes incorporate real-world experiences, because our staff has been on the front lines of emergency response tactics. Our trainers include lifeguards, firefighters, nurses, EMT technicians and more.
You can take your Corona CPR renewal class in town, or we can also conduct off-site training to accommodate your busy schedule. Best of all, when you schedule initial CPR training with SureFire CPR, we'll help you achieve your Corona CPR certification renewal without missing a beat!
To schedule your CPR recertification for Corona, or if you have any questions about our other training classes (PALS, BLS, ACLS, etc.), just call our Corona CPR renewal class specialists at (888) 277-3143. You can also visit the SureFire CPR contact page for more information.