BLS and CPR Training for Police Officers
Whether you're currently working as a police officer or you're hoping to begin a new career in law enforcement, police officer BLS and police CPR courses are a great way to set yourself up for a successful future.
ACLS certification for dentists is fast, affordable and extremely efficient, thanks to SureFire CPR. Our proven dentist ACLS training courses are ideal for dental care professionals, including technicians, dentists, dental assistants and many others. If you'd like to train your dentists with ACLS training, we offer a plan for any budget and professional schedule. SureFire CPR is the preferred choice for many dentists and dental practices throughout Southern California. And better yet, our ACLS classes for dentists can be given at a location and time that fits your schedule.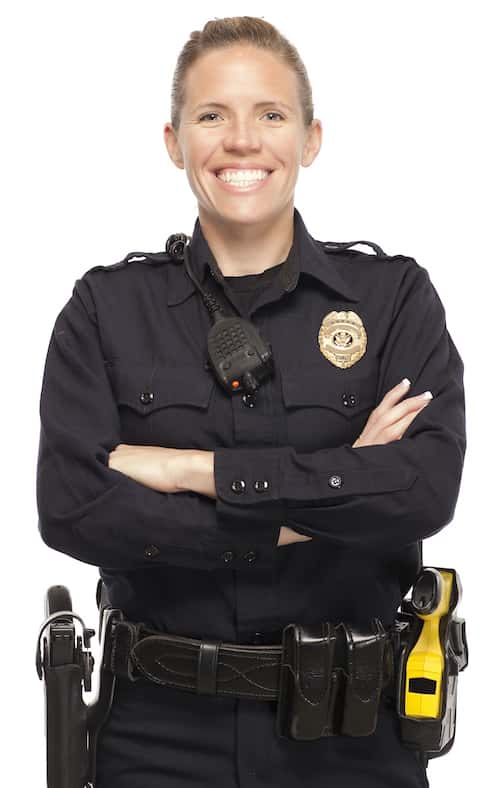 Why It's Important To Get Trained
Out on the field, you never know what kinds of situations you'll encounter. If someone at the scene is injured or sick, knowing how to provide first aid could be the difference between life and death for a shooting victim or someone experiencing cardiac arrest. In these emergency scenarios, every second counts. Being able to control the bleeding or give rescue breaths until medical personnel arrive just might make all the difference.
Police first aid training and CPR training for police officers equips you to better serve your community during these critical moments. Attaining BLS certification and CPR certification is an excellent way to level up your resume––and it might just save a life during your next shift.
CPR Training For Police Officers
If you're just starting your career, you might be wondering "are police officers CPR certified?" For police, CPR training is not always a requirement, but it is still an incredibly beneficial training to receive. When you get CPR certified, you'll learn how to administer CPR for adults, children, and infants. From recognizing the signs of sudden cardiac arrest to delivering chest compressions, you'll learn how to respond and help both conscious and unconscious patients.
BLS Training For Police Officers
Another great option for police officers looking to learn more about emergency healthcare is a Basic Life Support (BLS) certification course. These classes cover the basics of CPR, but they also include more in-depth topics such as cardiopulmonary emergencies and special resuscitation situations. BLS is typically recommended for police because of the special equipment they carry in their police cars. Bag valve masks, pocket masks, and other resuscitation equipment can be standard in many police rescue kits because it can be very common for police to be the first on a scene of a cardiac arrest.
Complete Your Training at SureFire CPR
Ready to take the plunge and sign up for a BLS or CPR course? The expert team here at SureFire CPR is ready to help! When you attend one of our training courses, you'll leave the classroom with new skills, helpful knowledge, and a newfound confidence that you can take to the field.
SureFire CPR offers both on-site and online courses at a wide variety of times, so it's easy to fit training into your busy schedule. Certification is valid for 2 years and you'll receive a same-day certification card to show your employer.
It's easy to register for our CPR or BLS courses––simply enroll here on our site. If you have any questions, feel free to contact us. Are you looking for a solution to have your entire department certified? We specialize in large, corporate clients and have solutions to ensure that your entire force can be trained smoothly and efficiently. Interested in a group training quote? Click here: Custom Group Quote. We're happy to help!