BLS Certification for Doctors, in-person or hybrid American Heart Association BLS CPR Certification in California
As a doctor or future physician, you know as well as anyone how important medical training is. Odds are, you've likely undergone countless hours of coursework to enhance your knowledge of medicine and how to respond to medical emergencies. One important step in this process is getting your Basic Life Support (BLS) certification.
BLS Certification for Doctors
The health and safety of your patients is paramount. Over 290,000 cardiac arrests occur in hospitals each year in the U.S., and BLS training helps you be ready should it happen to one of your patients. Even if you've covered BLS topics in other classes or training, there's no substitute for an AHA accredited BLS course with hands-on practice and expert instruction.
Doctors are required to maintain BLS certification. When you complete the training, you'll receive a certification card that you can show to your employer. If you're currently in med school or plan to pursue a career as a physician, completing all of the required training is a great step towards career success.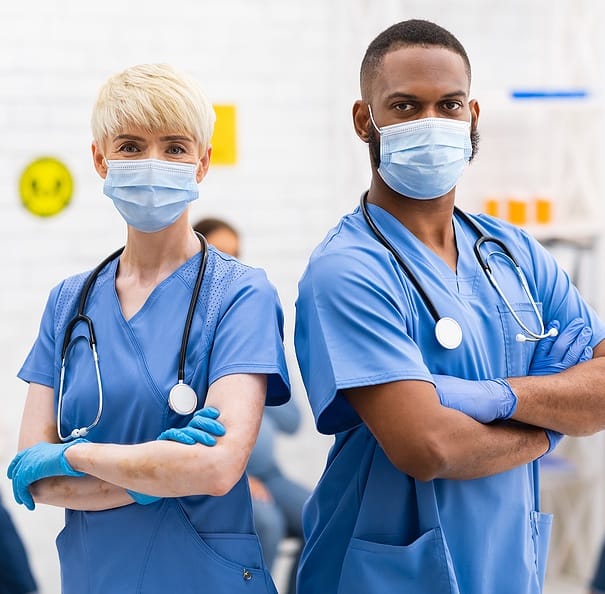 How to Renew AHA BLS Certification
If you've been practicing as a physician for years, chances are you've already taken a BLS course or two. A BLS certificate is valid for 2 years after course completion, so in order to maintain your credentials, doctors will need to take a renewal class every couple of years. The good news is that AHA BLS renewal is a simple process––just sign up for an AHA BLS renewal course from SureFire CPR. It's a great chance to refresh your memory and sharpen your BLS skills.
FAQs About Doctors BLS Certification:
BLS stands for Basic Life Support; in a BLS certification course, you'll learn about topics related to emergency life support such as CPR, AED use, treatment of conscious and unconscious choking victims, and more.
BLS is the American Heart Association CPR course for healthcare providers. CPR for the Healthcare Provider is the American Red Cross equivalent to BLS for healthcare providers from the American Heart Association (AHA). AHA classes are typically more widely accepted in healthcare.
Yes, just like most healthcare providers, physicians need to be BLS certified.
BLS For Healthcare Providers at SureFire CPR
When you're ready to sign up for an AHA BLS course or AHA BLS renewal at SureFire CPR, just find the time slot that works for you at one of our many locations across Southern California. Looking to complete your BLS training online? SureFire CPR offers hybrid courses with online lessons and a brief in-person skills assessment. Through simulation technology and scenario-based learning, these courses offer the same high-quality learning experience from the comfort of home. It's a great option for MDs who are trying to fit certification courses into their busy schedule.
If you want to know more about our BLS certification courses or have any other questions, our team is happy to help! Just reach out through our online contact form or by phone at (888) 277-3143.