SureFire CPR is happy to extend our services involving our valuable classes on-site at various trade schools. We offer Basic Life Support (BLS) training for trade schools in the healthcare field, so that students can get a jump start on their career requirements. Since this class can be scheduled during normal school hours, it also eliminates the need for students to take additional courses outside of the classroom.
SureFire CPR understands you're very busy, and we know just how intensive training in the medical field can be. That is why we send our talented instructors, with real-life medical experience, right to your trade school programs to provide medical students with the certification they need to land their dream jobs and help future patients.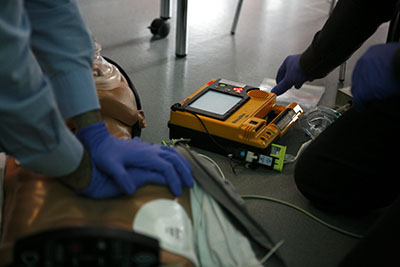 What Happens in SureFire CPR's Onsite BLS Training for Trade Schools?
We have partnered with many trade schools in California and can offer your trade school our convenient onsite BLS training if you agree with our terms:
You need at least 6 students in your class to qualify for our onsite training (if you have less than 6 students, we will still provide on-site training but will charge you for 6 students)
We can accommodate all schedules with our 7 day-a-week availability
We can host a class at any of our locations or travel to you or a third-party venue for training
We keep track of all dates of certification for your specific group and will notify you when your certification is about to expire
We give special discounts for nonprofits and for larger class sizes
If you feel you can take advantage of our onsite training, we would love to provide our medically-trained instructors' expertise working with patients in real-life emergencies to train your medical students in BLS. Our training doesn't require any equipment, so you don't have to be prepared in any way before hiring us to train your students.
What Does SureFire CPR's BLS Class Cover for Trade Schools?
BLS training is meant specifically for those in and entering the medical field. Training goes beyond basic CPR and First Aid, and into more advanced recognition and treatment skills. Students who typically take our BLS classes include: doctors, nurses, dentists, paramedics, EMTs, physical therapists, respiratory therapists, dental hygienists, anesthesia technologists, occupational therapists, nursing assistants, as well as those in sports medicine, pharmacy and psychology.
These medical professionals, as well as those aspiring to one of these positions, have a high chance of experiencing a patient or client suffering from cardiac arrest, or a cardiopulmonary or cardiovascular emergency. The BLS class with SureFire CPR is compliant with all guidelines and standards set by the American Heart Association.
Trade school students will learn:
Adult, child and infant CPR
Automatic External Defibrillator use
Unconscious and conscious choking for adults, children and infants
How to recognize and treat cardiopulmonary emergencies
How to use breathing barriers and bag valve masks
2 rescuer CPR
Upon successful completion of the course, students in trade school programs will receive a certification completion card that is valid for two years. SureFire CPR offers initial BLS training for first-time students, as well as renewal classes for those who need to recertify to meet job requirements.
Give us a call today and give your trade school programs the highest quality BLS training in Southern California!