BASIC LIFE SUPPORT (BLS) FOR HEALTHCARE PROVIDERS
(2 Year AHA Certification) – Same Day Certification Card!
Recommended for: RNs, EMTs, MDs, Paramedics, Dentists, Medical Personnel, and Pharmacists.
The BLS Class covers:
Adult, Child, and Infant CPR
How to use an Automated External Defibrillator (AED) & special considerations
Unconscious and Conscious Choking for victims of all ages
Cardiopulmonary Emergencies and Special Resuscitation Situations
Breathing Barriers, Bag Valve Masks, and 2 Rescuer CPR
Class Running Time: 3 Hours and 30 Minutes
Click on a class below to enroll
Basic Life Support Certification Corona
SureFire CPR is an industry leader in Basic Life Support instruction. We serve Greater Southern California including Corona, San Bernardino, San Diego, Riverside and Los Angeles. We provide exceedingly high quality training leading to BLS certification in Corona.
East of Orange County lies the County of Riverside, extending as a band from the eastern border of Orange all the way to Arizona. This is where you will find the city of Corona. The city's top three employers are the Corona-Norco Unified School District, Corona Regional Medical Center and Watson Pharmaceuticals. The population density in Corona, 3,900 per square mile, is marginally larger than that of Orange County at 3,800 per square mile.
The temperature in Corona rarely falls below 40 degrees Fahrenheit, even in the winter months. Even as early as March, the temperatures can rise to 100 degrees, with the mid-summer months bringing temperatures as high 114 degrees. High temperatures bring heatstroke and the associated risks to people with cardiovascular disease. Taking into account the size and population density of the area, someone with training in basic life support should always be able to find work in Corona.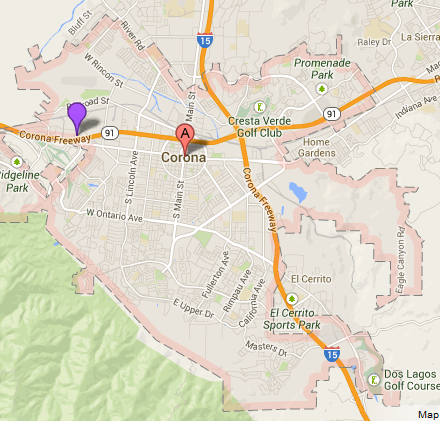 Our select team of instructors has been specially chosen for their outstanding qualities and consists of top-notch EMTs, paramedics, lifeguards, firefighters and ER nurses who have substantial hands-on experience and regular exposure to the type of medical emergencies that call for skills in basic life support. We specialize in provision of on-site training to prepare health care professionals for BLS certification Corona.
Basic Life Support certification in Corona instruction is included in our 3, 4 and 5 Star American Heart Association Training Packages. All three of our BLS classes in Corona offer the student an opportunity to take the following classes at a fantastic discount:
All of our Corona BLS certification classes lead to an American Heart Association two-year initial basic life support certification Corona. This class is intended for RNs, dentists, MDs, EMTs and medical personnel. A certification card will be issued following successful completion of the Corona BLS Certification Class.
Want to renew your BLS certification? With SureFire CPR, we make it quick and easy to do so.  Simply find a BLS certification course at our Corona office and you will be BLS recertified in no time.  You can retain the necessary BLS skills to provide life-saving support day after day. For those who are ready to renew their BLS certification, choose one of the available courses on this page to sign up for a BLS certification course today.
We offer the following classes in Basic Life Support (BLS classes in Corona):
Basic Life Support (Corona BLS Certification class) for medical professionals (Initial). Subjects covered in this course include CPR for infants, how to manage both conscious and unconscious victims of choking, children and adults with one and two rescuers; how to use the Automated External Defibrillator (AED); breathing barriers and masks; special resuscitation and CPR emergencies.
Basic Life Support (BLS certification in Corona) for medical professionals (Renewal). This course covers the same subjects as in the Initial course.
Basic Life Support (BLS certification Corona) for medical professionals (online with skills test). This course covers the same subjects as the Initial and Renewal courses and is aimed at medical professionals who are particularly pressed for time. The course is organized into three parts, i.e., a self-paced online component, followed by skills practice and a skills test at our facility.
What are the advantages of SureFire CPR BLS classes in Corona?
SureFire CPR classes leading to BLS certification in Corona leave the student fully prepared for two-year certification in American Heart Association basic life support for medical professionals. Our classes are flexible, affordable and convenient. The online course components may be scheduled to fit your timetable and are accessible from any computer, anywhere, anytime. There are no special materials or textbooks to purchase. The skills test is simple and takes little time. Your certification card is issued on the same day that you successfully complete the training, whether you do part of the work online or complete both the classroom training, practical instruction and assessment at our site.
When your skills mean the difference between life and death, you want to be trained to the highest possible caliber. Call us now to see how we can help you enhance your career and save lives with BLS certification Corona.