Advanced Cardiac Life Support (ACLS) Certification teaches medical personnel the skill-set to help patients who are experiencing serious cardiac-related emergencies. ACLS is an advanced version of the methods taught in the Basic Life Support class, and it involves teaching medication dosages, IV use, intubation and ECG analysis. Many types of healthcare professionals, including respiratory therapists, are required to complete the ACLS certification, because they must be qualified to handle major medical emergencies.
A respiratory therapist works with and cares for all kinds of patients, ranging from premature infants to the elderly, who have trouble breathing from undeveloped lungs or a chronic respiratory disease like asthma or emphysema. This is why it is important for respiratory therapists to receive their ACLS certification.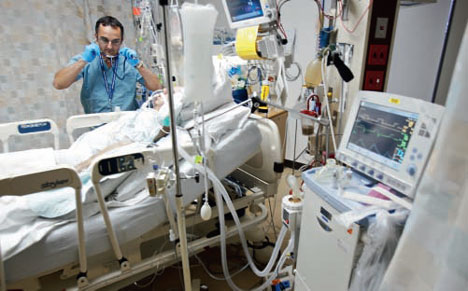 Why Do Respiratory Therapists Need ACLS Certification?
Respiratory therapists treat patients using advanced methods, including chest physiotherapy and aerosol medications, and supervise respiratory therapy technicians during tests. They may see a patient suffering from a respiratory emergency and need to immediately begin performing the advanced skills taught in the ACLS course.
What Does SureFire CPR's ACLS Class Cover?
Healthcare professionals, including respiratory therapists, will learn:
Recognition and early management of respiratory and cardiac arrest
Airway management
ACLS Pharmacology
Review of Basic Life Support, including CPR and AED use
Management of acute coronary syndromes and stroke
Leadership and team member skills
Which ACLS Classes Does SureFire CPR Offer?
Surefire CPR provides students of all levels with the ACLS class they need. We have the initial course for first-time students, the renewal course for those who need to keep up with certification, as well as a shortened challenge course for those who are very familiar with the ACLS guidelines and perform it regularly in their jobs. SureFire CPR also gives students with especially busy schedules a convenient blended-learning course that includes an online portion with a skills test led by an instructor.
The initial ACLS class teaches all of the components listed above, and takes approximately 12 hours to complete. Once a student has successfully completed the course, they will receive a course completion card that is valid for two years.
If it has been two years since your last ACLS course, you need to take the renewal class. This course takes 6 hours to complete, and students will receive another two-year certificate. You must complete the renewal course before your expiration date.
The ACLS challenge course is a fast-paced class that is designed for individuals who do not need a classroom review of the AHA's guidelines before taking the written test and practical exam. It is only for those who currently have an unexpired ACLS completion card and those who have been certified for at least 3 years. Other requirements include: current employment in an emergency care setting; to the ability to demonstrate an understanding of the AHA guidelines for the written and practical exam; completion of the ACLS study materials and pre-test before taking the challenge course.
A respiratory therapist needs ACLS certification to properly care for patients and be able to apply effective treatments and stabilization for patients suffering cardiopulmonary emergencies. SureFire CPR has been designed to give these valuable healthcare professionals with the quality and comprehensive training they need to fulfill job requirements. We only employ instructors with medical training, have an ACLS certification and who have real-life experience working with patients and applying the methods they teach.
If you need the best ACLS respiratory therapist training, look no further than SureFire CPR. Enroll in an ACLS Certification Class today!