Advanced Cardiac Life Support (ACLS) – Renewal
(2 Year AHA Certification) – Same Day Certification Card!
Recommended for any healthcare professional and medical personnel who may respond to cardiovascular emergencies.
The ACLS Class covers:
Recognition and early management of respiratory and cardiac arrest
Airway Management
ACLS Pharmacology
Basic Life Support (BLS) review
Management of acute coronary syndromes and stroke
How to be both a leader and a team member in a resuscitation team
CE's available for EMS and Board of Nursing! For CME's, please take an ACLS online with skills check.
**This class is for those who have an unexpired ACLS certification card.
Class Running Time: Approximately 6 Hours
Click on a class below to enroll
ACLS Renewal Orange County
Sitting in your living room, relaxing with your favorite TV show, suddenly the palpable scream of metal on metal from a nearby street catapults your from your reverie. Without thinking, your instinct knows the next action you must take.
Typically, there is a certain "breed" of people that are drawn to act in these chaotic situations – a medical professional. Whether a Paramedic, Life Guard, Registered Nurse or Emergency Medical Technician, all are considered professional experts in the medical field.  Each of these experts is taught to handle a variety of situations.  Being prepared is their secret.
SureFireCPR is here to help everyone be prepared for the unexpected with ACLS training available in Orange County.
ACLS Renewal Classes and Training in Orange County
The very nature of emergency medicine is geared to handle unexpected situations at a moments' notice.  Through continual, recurrent training, emergency medical professionals become capable of handling a wide variety of medical emergencies.  ACLS recertification  Orange County, through SureFire CPR, promotes this high training standard.  The core curriculum presented contains key principles of resuscitation, accepted as the American Heart approved standard of care for ACLS recertification.
Typically the majority of patients seen in a professional medical environment are mild to moderately ill or injured. Despite treating large numbers of patients, this high volume does not provide adequate preparation for the most unstable victim.  Due to an increasing frequency of advanced directives in our society today fewer patients actually arrive at the hospital in cardiac arrest.  This, along with improved early field intervention, means that once a patient arrives at the hospital, the receiving staff continues interventions initiated in the field.  To most effectively handle significantly ill or injured patients, being prepared is critical.  Understanding the American Heart Association approved guidelines for treating these unstable patients will promote a smooth transition from field to hospital care.  SureFire CPR's Orange County ACLS renewal is the best way to insure complete preparation for these acute patients.  ACLS renewal in Orange County teaches the core elements of these essential life saving techniques.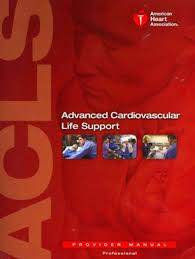 All of SureFire CPR classes are taught and approved by the American Heart Association – key criteria in the search for relevant, current curriculum.  When searching for Advanced Cardiac Life Support renewal in Orange County, it is extremely important to select a training center that is equipped, staffed and capable of providing the training required.  Substitutes should not be accepted.  Finding courses in the community that claim to be Orange County ACLS recertification courses is possible.  However, obtaining the quality mark of AHA approved courses is always the best decision.  Opting for courses that are not AHA approved may waste time and are usually not accepted by employers. Typically these courses resemble AHA approved courses but are not officially approved courses.  Also, fees paid for these non-AHA courses are not refundable.
SureFire CPR has an established quality reputation as a provider of ACLS renewal in Orange County.  As part of the ACLS renewal process, classes in CPR and Basic Life Support renewal are also offered.
SureFire CPR looks forward to engaging you in our next available educational program.  We want to help you save a life.