ACLS – Advanced Cardiac Life Support – Initial
(2 Year AHA Certification) – Same Day Certification Card!
Recommended for any healthcare professional and medical personnel who may respond to a cardiovascular emergency.
Recognition and early management of respiratory and cardiac arrest
Airway Management
ACLS Pharmacology
Basic Life Support (BLS) review
Management of acute coronary syndromes and stroke
How to be both a leader and a team member in a resuscitation team
CE's available for EMS and Board of Nursing! For CME's, please take a ACLS online with skills check.
**This class is for those who have never taken ACLS before or have an expired ACLS certification card.
Class Running Time: Approximately 12 Hours
As one of California's biggest medical communities, Orange County requires certified individuals who are at the top of the industry standard. Many certifications are needed for emergency personnel like EMTs, firefighters, nurses, paramedics, lifeguards, and more. One certification that is very important and makes you invaluable is the ACLS certification, or Advanced Cardiovascular Life Support certification.
Advanced cardiovascular life support, or ACLS, is the training that is required to properly assist a person who has suffered a stroke, cardiac arrest, or other life-threatening heart conditions. Although the certification is mandatory for certain fields, other institutions that may not require an ACLS class or certificate will give your resume an extra look when you have gone through ACLS training because of the countless cases of cardiovascular accidents that happen daily.
What is an ACLS Certification and how long does it last?
An ACLS certificate is given out by the American Heart Association when you are deemed properly trained in advanced cardiovascular life support. ACLS certification through the American Heart Association is the one that is trusted by all medical facilities. An ACLS certification card lasts for two years and can be easily renewed through an American Heart Association-approved training facility. All you have to do is sit through an open class in one of these institutions, and you will renew your certification.
The benefits of taking an Orange County ACLS class through SureFire CPR are many. First off, Surefire CPR is an AHA-approved facility in Orange County, so your ACLS certification will be accepted by any employer requiring the certification. They will provide you with the necessary ACLS training to receive your certification and learn the information thoroughly and effectively. Their ACLS training will offer you advanced state-of-the-art technology to give you the best hands-on training possible.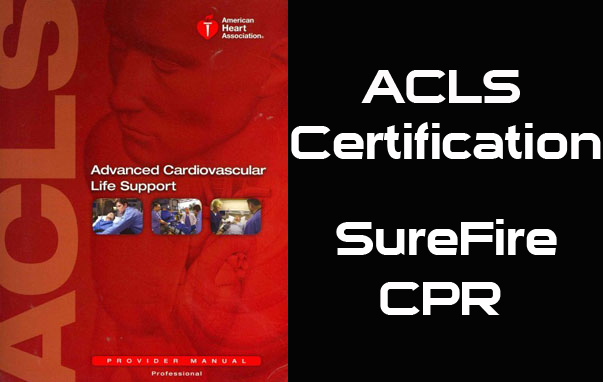 You'll learn the correct processes and techniques used to react in emergency situations. This includes managing emergencies with arrhythmia, medications, allergic reactions, cardiac arrest, Automated External Deliberators, and more. SureFire CPR's ACLS classes in Orange County cover a full range of educational material, including the use of electrical therapy, IVs, and other invasive procedures you'll need when working in healthcare. In addition, you learn how to handle emergency situations with confidence as you'll be fully prepared for any challenge as a team member in a resuscitation team, which is essential when working at local hospitals, including St. Joseph Hospital and Orange Coast Memorial Medical Center. One of the most well-known medical facilities in the state is The University of California Irvine Medical Center. This large hospital employs thousands of medical workers and each of these workers is required to have ACLS training in Orange County.
There are many reasons why people choose Surefire CPR for an ACLS class. One of the primary reasons is their flexible scheduling. You can come to ACLS certification classes at their training facility or learn at your home or office. The best part about this is that you can take the classes according to your schedule, which means you go at your own pace and choose the time and day you want to take the ACLS courses. They also have qualified instructors who will do their best to help you get the most out of your ACLS training. The SureFire CPR instructors are emergency personnel with years of field experience, and each instructor offers personal and real world advice that provides invaluable assistance when you are learning and implementing the ACLS techniques. Additionally, the instructors make you an integral part of the training, so everyone in the class is involved in the learning.
In addition to ACLS certification classes, SureFire CPR offers CPR and Automated External Defibrillator training, Basic First Aid, Basic Life Support, Pediatric Advanced Life Support, ECG and Pharmacology, Hospital Fire Safety, Neonatal Resuscitation, and Pediatric Emergency Assessment Recognition and Stabilization certifications.  Our instructors are medical professionals, such as EMTs, paramedics, firemen, and nurses, with years of field experience.
California's medical industry in Orange County is very large and one of the most respected medical areas in the entire country. Their employment requirements include top-of-the-industry certifications such as an ACLS certification. The American Heart Association provides ACLS certification through its approved training facilities, and Surefire CPR is one of those approved institutions.