ADVANCED CARDIAC LIFE SUPPORT (ACLS) – INITIAL
(2 Year AHA Certification) – Same Day Certification Card!
Recommended for any healthcare professional and medical personnel who may respond to cardiovascular emergencies.
The ACLS Class covers:
Recognition and early management of respiratory and cardiac arrest
Airway Management
ACLS Pharmacology
Basic Life Support (BLS) review
Management of acute coronary syndromes and stroke
How to be both a leader and a team member in a resuscitation team
CE's available for EMS and Board of Nursing! For CME's, please take an ACLS online with skills check.
**This class is for those who have never taken ACLS before or have an expired ACLS certification card.
Class Running Time: Approximately 12 Hours
Click on a class below to enroll
Why Should You Take ACLS Certification in Corona?
Corona is one of the fastest growing areas in California, giving way to a much greater need for medical facilities, doctor's offices, and clinics. As the medical community in Corona continues to grow, more and more workers are needed to become certified in the various skills required to take care of their patients. Though there are many requirements for the training of healthcare workers, one that is desperately needed is ACLS training.
This type of training offers the healthcare community the ability to learn the techniques needed for airway management and the other steps that are necessary to care for emergency patients. By understanding how to recognize arrhythmia and the effects of medication, individuals can treat those in cardiac and respiratory distress effectively.
Through ACLS classes in Corona, individuals learn how to work in a variety of medical emergencies. By training to work with stroke patients and cardiac arrest emergencies, patients are in more capable hands, allowing for less lives to be lost. This advanced course provides medical professionals with a combination of skills that are crucial for caring for patients with a many different health conditions.
What Types of Occupations Need ACLS Training in Corona?
Professionals who have been trained in ACLS are able to work at a variety of medical facilities, including hospitals, emergency rooms, clinics, and in Intensive Care. A broad array of medical professionals need this type of training, because they never know when they may need to provide life-saving measures for a patient who is not responding.
Doctors, Nurses, EMTs, and Paramedics are all important in caring for emergency patients. Having the right training gives these professionals added skills that can help them to respond to all types of medical emergencies, providing the services that can help to save their patient's life.
Firefighters, First Responders, and those in medical school can also greatly benefit from this training. Depending on the organization that one is working for, the training is often a requirement. To satisfy the requirements of training, an ACLS class in Corona should be completed for initial certification and taken again for re-certification.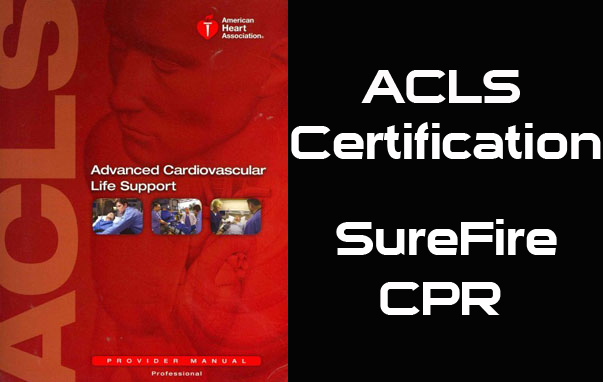 What Businesses Require ACLS Certification in Corona?
Corona, right near the Santa Ana River Canyon, is full of medical facilities. Some of the most-respected hospitals are in the area, one of them being Corona Regional Medical Center. This facility treats hundreds of patients, with many different medical conditions, each and every day. Needing quality training for their healthcare workers, ACLS instruction that meets American Heart Association Guidelines is required, ensuring that their workers will have the proper skills to effectively care for patients in a variety of emergency situations.
Along with Corona Regional, Parkview Community Hospital is also leading the way in patient care. Through ACLS classes in Corona, their employees are given training that helps them to be able to respond to medical emergencies and give life-saving care to patients of all ages. They require that individuals successfully complete ACLS certification class in Corona before they can be hired. Ongoing training is also required so that re-certification can occur.
Important Information Regarding ACLS Certification in Corona
Through this certification class, training in airway management techniques and in electrical therapy is given. With algorithms, healthcare professionals are able to learn all that they need, to be able to respond to medical emergency patients who are suffering from any type of airway obstruction, respiratory failure, and cardiac distress.
After completing an ACLS certification in Corona, individuals will receive proof of their certification so that they can meet the requirements of the organization that they work for. As a part of these classes, healthcare professionals are given a CPR review that helps them hone their skills and gives them greater confidence.
The benefits of an ACLS class in Corona gives those who work in the medical field the advanced skills of life support. Healthcare professionals are trained in many different situations so that they can care for stroke victims, those in cardiac arrest, and patients in respiratory distress. With quality training, the healthcare community can work to better saves lives.